Sales veep, staff log-off from cluster-cache upstart PernixData
This is fine, everything's fine
---
PernixData has lost Ted Stinson, its veep of worldwide sales, and laid off up to 16 people in its North American channel and inside sales operations.
The high-flying upstart touts clustered caching technology at the VMware hypervisor level, which speeds up virtual machine execution. PernixData was founded in 2012 by CEO Poojan Kumar and CTO Satyam Vaghani. It has received $62m in funding in three rounds.
If VMware users have not bought PernixData's FVP product in sufficient numbers, this may be due to the weak enterprise server market hinted at by QLogic and analysts such as Aaron Rakers.
Ted Stinson confirmed he had left, saying "Yes, I've left PernixData. It's amicable. We've just closed a record quarter and the future is bright for PernixData."
Tweets from laid-off staff such as engineer Tee Glasgow and solutions engineer Tim Antonowicz helped reveal the problem: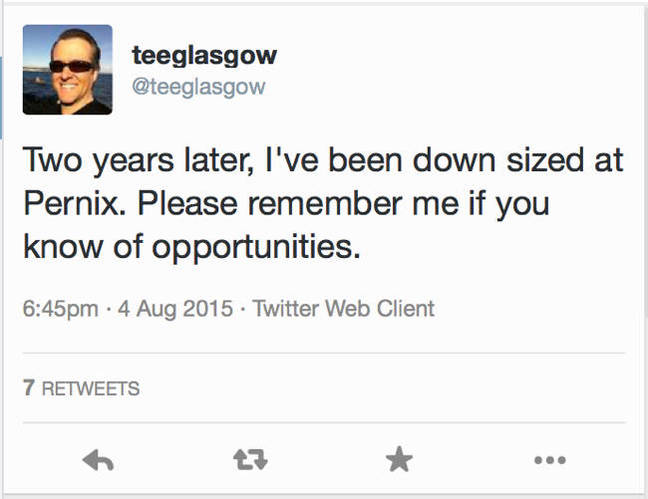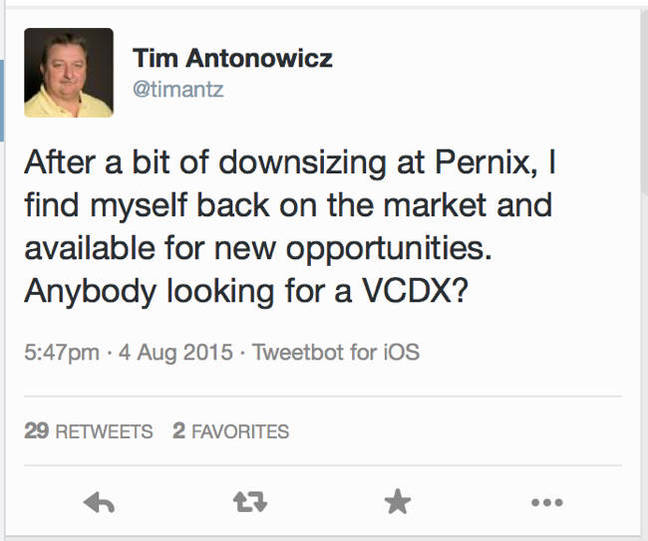 A PernixData spokesperson said, "I can't comment on specific personnel decisions at PernixData, but I will say that we set a record for software infrastructure revenue our first full year of shipping, and we are on a similar pace for our second year. We just closed a quarter that was 125 per cent higher than the same quarter last year, where we surpassed the 500 customer mark – which is an amazing achievement in such a short time. To that end, business is going great and we continue to aggressively invest in sales, marketing, engineering, and the channel."
Two questions many will ask is if this is a temporary setback and whether PernixData will need fresh funding. ®