Radian ready to replace the flash translation layer
It's all about the speed baby, speed, speed, speed
Stealthy startup Radian Memory System's Symphonic software replaces an SSD's Flash Translation Layer software to accelerate performance up to 80 per cent and extend endurance. It's selling its own RMS-250 SSDs with this software for data centre use
Flash Translation Layer (FTL) software enables a block-based SSD to be presented as a disk-like, random-access file storage device.
Radian thinks FTLs don't make the best use of SSDs and states "Hyperscale data centres and academia have recently confirmed that removing the SSD Flash-Translation-Layer (FTL) ... can provide dramatic improvements in performance and cost metrics".
It talks about its technology as producing software-defined flash, in a fine example of marketing buzzword bandwagon jumping.
We learned a little about Radian in June and now it's opened the curtains a little on its Symphonic Cooperative Flash Management (CFM) software which involves embedded SSD firmware and host-resident libraries.
The claimed benefits are, when compared to FTL-using SSDs:
80 per cent uplift in IOPS and bandwidth
Up to 10x improvements in deterministic latency QoS
50-75 per cent reductions in write amplification factors to extend endurance and usable product life (lowering TCO)
Requires 10-30 per cent less raw flash to deliver equivalent usable capacity with better performance/endurance

Radian claims three 2TB SSDs, with 5.8TB addressable capacity, using CFM, can supply one million IOPS with reliable quality of service*. It would require 17 x 2TB FTL-using SSDs with 34TB of raw flash and 27TB addressable capacity to do the same.
How does it do this and still accomplish what the FTL does, making a block-device look like a disk-based one? That's its secret Symphonic sauce and we might as well think of it as a better FTL.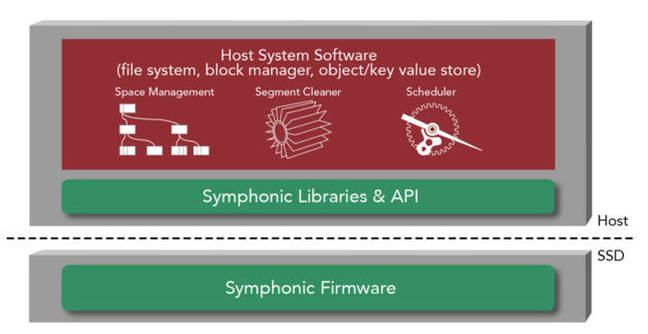 We are told CFD "turns the SSD into an offload accelerator engine to perform garbage collection functions co-operatively under intelligent host control, enabling linear scalability of SSDs while minimising consumption of host resources".
It "enables vendor-supported warranties by performing device-based wear-leveling in conjunction with cooperative garbage collection".
Radian says CFM is able to support different NAND vendors and future NAND technologies.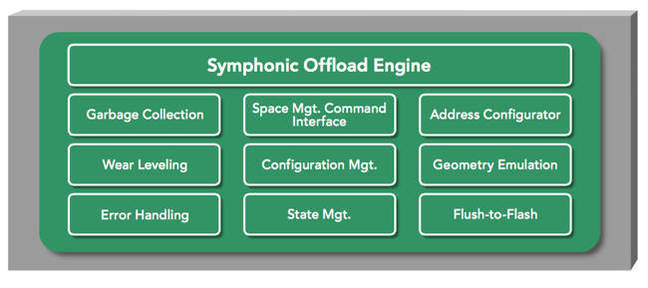 Symphonic offload engine
The 2.5-inch format RMS-250 stores up to 2TB of data in 19nm eMLC flash, and has an NVMe PCIe Gen x4 interface. It comes with the embedded CFM software and host libraries. It has:
Three per cent internal over-provisioning
Up to 2GB of NVRAM with direct host access
2.38GB/sec sequential read
2.461GB.sec sequential write
581,000 4K IOPS with 100 per cent sequential read
601,000 4K IOPS with 100 per cent sequential write
That's all we know so far.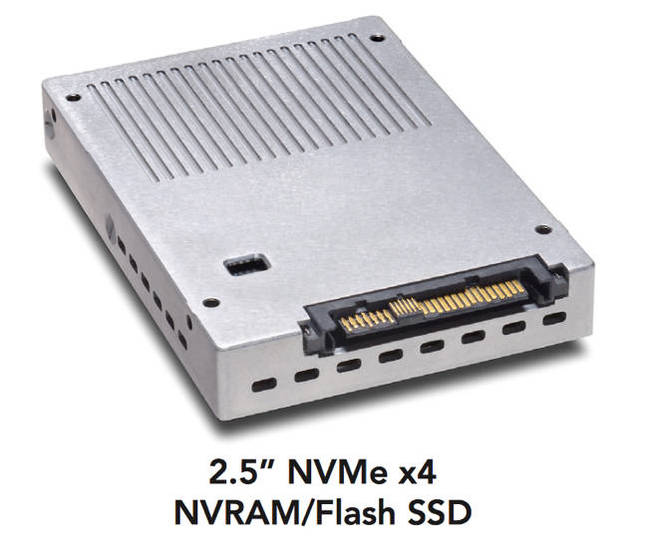 Radian RMS-250 SSD
Target RMS-250 and Symphonic software markets are system OEMs, cloud and service providers.
Radian will also licensing its tech to device-based manufacturers to support data centre primary storage needs. Its envisaging both direct and distribution sales channels.
Check the RMS-250 and the separately-available Symphonic software out at the Flash Memory Summit, August 11-13, 2015, in Santa Clara. GEt an RMS-250 data sheet (pdf) here. ®
* 66 per cent Read/33 per cent Write test mix with QoS defined as total read and write latency for 99.0 per cent of operations:
Three Symphonic SSDs achieve 957K IOPS at 99.0 per cent QoS at 2.7 ms, even without a read/write cache,
To match a 99.0 per cent QoS at 2.7 ms, a leading FTL SSD will have to be down throttled to 56K IOPS
Delivering an equivalent 952K IOPS at 99.0 per cent QoS at 2.7 ms requires 17 leading FTL SSDs, each utilizing a read/write cache