This article is more than 1 year old
Sony Xperia Z4 4G Android tablet – gift of sound and vision
Thinner, lighter 10-incher now with bundled keyboard dock
Review Time to recap the history of Sony's Xperia tablet range to put this new model into context. In the beginning was the Xperia Tablet, the first Sony 10-inch slab. Then came the Z2 Tablet, launched just over a year ago and reviewed here. The Z3 Tablet never existed, only the clumsily named Z3 Tablet Compact, an 8-inch affair.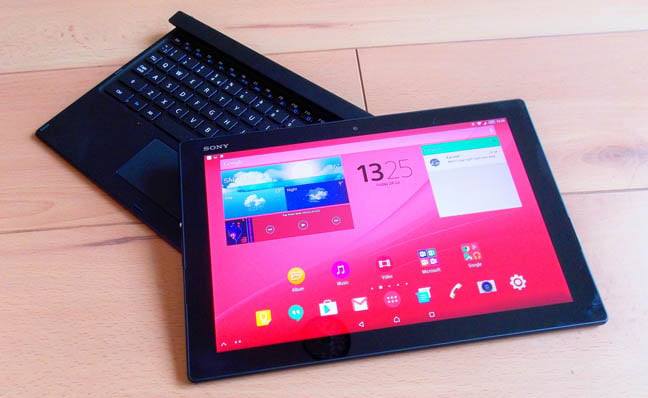 Sony's Xperia Z4 double-act
Now we have the Z4 Tablet, a 10-incher that doesn't actually replace the Z2 Tablet. That is still on sale for £409 against the new Z4's £579. Those prices are for the 4G versions but in the case of the Z4, the not insignificant cost includes a Bluetooth keyboard. Lose the 4G radio and you save £80.
If you were hoping for a radical overhaul of the Xperia design with the Z4 you are going to be disappointed. It's very much a reheat of the Z2. Yes it's thinner, smaller, lighter and more crud-proof at 167 x 254 x 6.1mm, 393g and IP68-resistant, but the looks and materials are all rather familiar.
Of course, there is nothing wrong with the shape or looks or material of the Z2 Tablet, but I do wonder quite how long Sony can continue with this conservative design language before customers become bored with it and stop being able to recognise new models when they see them.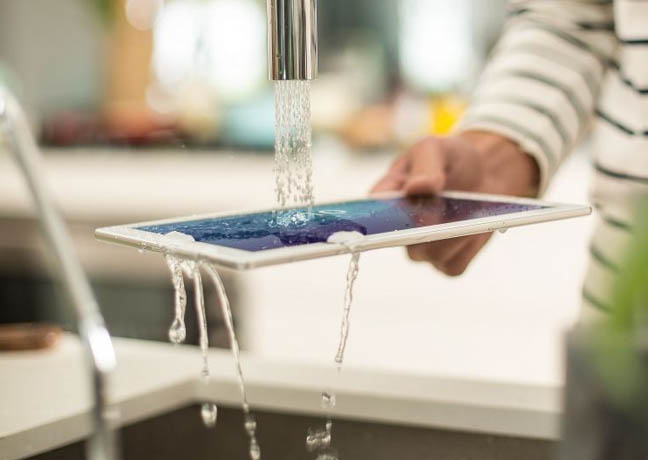 IP68 rated: will next year's be dishwasher safe?
Aesthetics to one side, Sony claims the Z4 is the lightest and thinnest 10-incher available and, as far as I can tell, that's correct, because it is 103g lighter than the original Xperia Tablet and 42g lighter than the Z2.
Apple's latest and hardly lardy iPad Air is a comparatively leaden 444g though it shares the same 6.1mm girth. Even the smaller iPad Mini is only 52g lighter. There's no hint that this impressive loss of weight has made the Z4 more fragile; it feels every bit as sturdy as its forebears.
It's more technically advanced too. The screen is now a 1600 x 2560-pixel, 299dpi IPS affair, while the SoC is an up-to-date MSM8994 Snapdragon 810 component packing four 1.5GHz Cortex-A53, and four 2GHz Cortex-A57 cores, an Adreno 430 GPU and 3GB of RAM.
There's also 32GB of storage and a microSD card slot, which is good for another 128GB. That'll do nicely.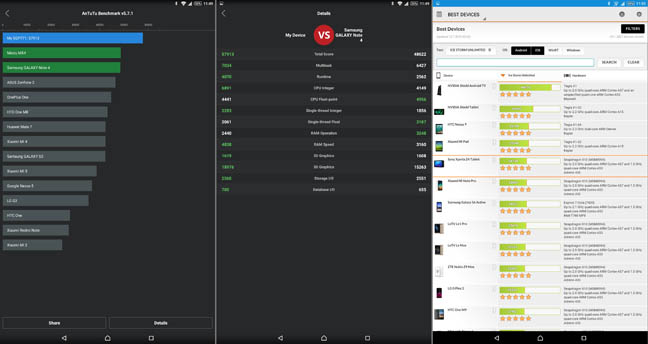 AnTuTu and 3DMark Ice Storm ratings – click for a larger image
With a spec like that, you'd expect the Z4 to ace all the usual bench tests, and you'd be right too. Both the AnTuTu and 3DMark Ice Storm Unlimited tests were drop-kicked out of the ballpark by the Z4. When it comes to powerful Android tablets, this is pretty much the state-of-the-art.