Shiny shiny
The screen is a bit of a mixed bag though. Not so much technically – it's bright, crisp, colourful, works at seriously obtuse angles and is altogether very easy on the eye – but rather physically. Firstly, despite having an oleophobic coating, it shows up fingerprints badly. Secondly, there's no Gorilla Glass, just a rather vague-sounding "scratch-resistant glass". Lastly, it's rather too reflective in daylight. Carry a cloth, take care of it and use it under a tree and none of that matters, but still.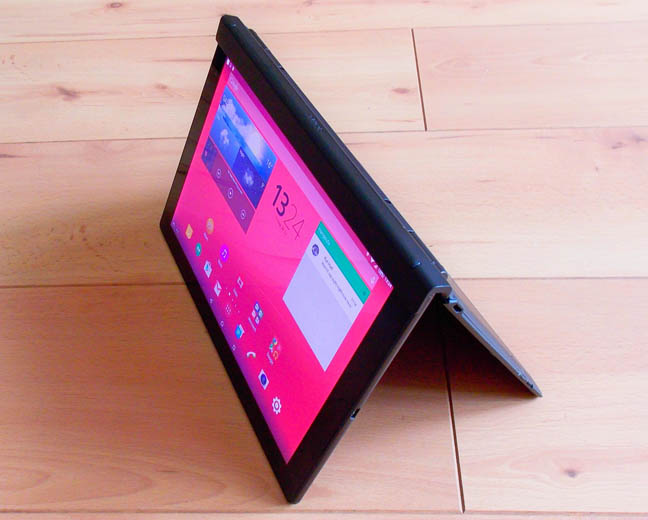 Tent mode is possible if you wedge the tablet in back-to-front
On the subject of fingerprints, it's not just the screen that gets mucky; so does the matt finish on the back of the tablet and on the keyboard deck. I ended up polishing my Xperia Z4 like I had a bad dose of OCD.
The speakers perform very creditably, but your guess is as good as mine where they are actually buried, as there are no visible grilles. The sound they make is composed and there's more than enough volume to listen to a film in a less than silent environment. Plug in a decent pair of headphones and the fact you're using a tablet made by a company that knows a thing or two about sound quality becomes clear.
Android here is v.5.0.2 skinned with Sony's Xperia launcher which adds a few extra features like "small apps" and a miniature, collapsible task bar. Personally I swapped straight to Google's Now Launcher but there's nothing wrong with the Xperia alternative, though on a 10-inch screen I miss Samsung's multi-window jiggery-pokery.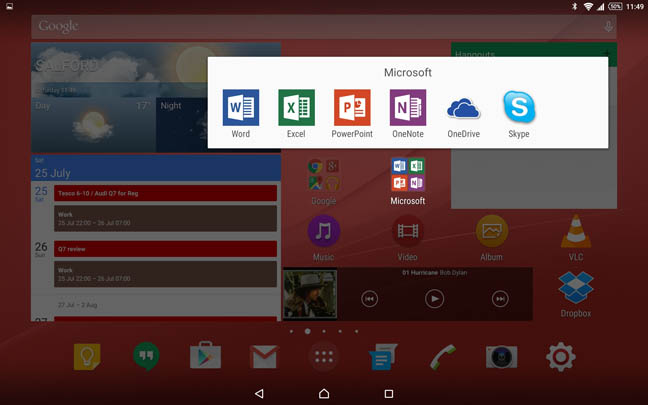 Xperia UI and preloaded MS goodies
This is the first Android device I've encountered with a pre-loaded package from Microsoft. Word, Excel, PowerPoint, OneNote, OneDrive and Skype (no Outlook mail app though) were all nestled in a Microsoft folder when I first fired the Z4 up. If you don't want them they can all be uninstalled, as can most of the other pre-loaded apps Sony foists upon you.
The Bluetooth keyboard that came in with my Z4 is rather good, albeit in an understated way. Tablet and keyboard join together by jamming the former into a plastic channel at the back of the latter. It's a straightforward idea but it means that you can slot the tablet in the other way around to stand it up in what's now called "tent mode".
That's handy if you want to watch a movie on an aeroplane or train with a small drop-down table in front of you.
A trick Sony missed here is not moving the 3.5mm audio jack. It's on the top in landscape mod, so in tent mode it is either obscured by the docking channel or the table top. The answer? Just slide the tablet along the docking channel by half an inch. That leaves the audio jack exposed. This sort of hi-tech advice is why you read The Reg, right?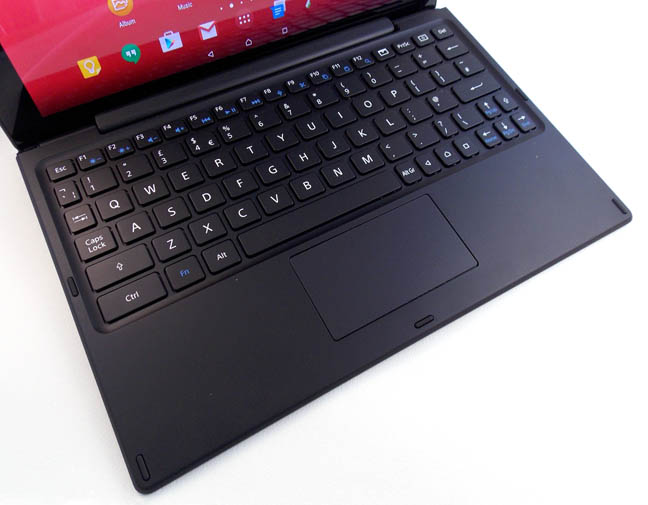 The trackpad works a treat, keys have a decent amount of travel
Sony says that the keyboard delivers a "laptop experience" and it's not far off the mark. The layout is traditional, the keys have a decent amount of travel and the trackpad works a treat. There are also enough shortcut keys to prevent you actually having to touch the screen at all. The function commands on F1-F12 can be set to always-on, so you don't need to tap the Fn key to use them.