Photo finesse
The Bluetooth connectivity and simple slot-in mount should have made it obvious that dock and tablet don't, indeed can't, share a power supply. You need to charge the keyboard separately. Sony reckons the keyboard's 400mAh battery will last for around six weeks assuming eight hours per day of usage. I won't have this review sample long enough to even come close to verifying that.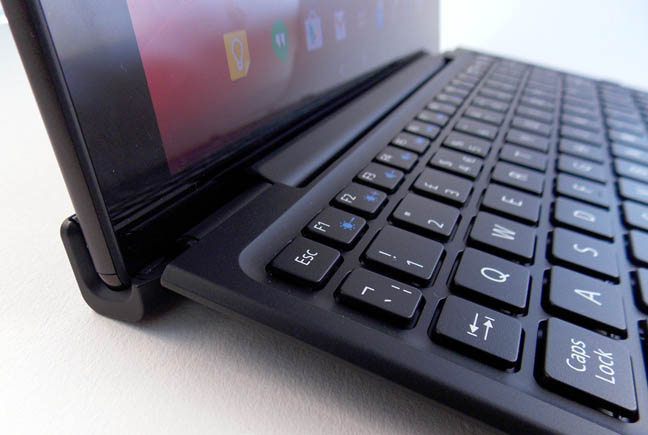 Wedge tablet into slot and away you go, shame about the limited tilt angle though
The only slight quibble I have with the keyboard is the relatively low 130-degree maximum screen tilt. At £150, that's the stand-alone price from Sony, it's an expensive accessory in its own right but definitely one worth having in a bundle. And I'm guessing the tablet would cost more than £429 if you could buy it sans keyboard.
Being a Sony gadget, the Z4 does well in the photographic stakes given it's a tablet. The rear camera is an 8.1MP component, the front a 5.1MP and both perform well. The camera UI is carried over from the Xperia phones and offers an impressive array of manual overrides for a fondleslab.
Given how much lighter the Z4 is, I was certain the battery would be smaller than that found in the Z and Z2 tablets. Not a bit of it, it's the same 6,000mAh affair.
Despite the more powerful (though also more efficient) chipset and many more pixels to light up, the Z4 performed very creditably. Subjected to my usual 1080p video loop-of-death test, the Z4 managed to keep chugging for 10 hours 30 minutes. That's ninety minutes more than the Z2 Tablet managed.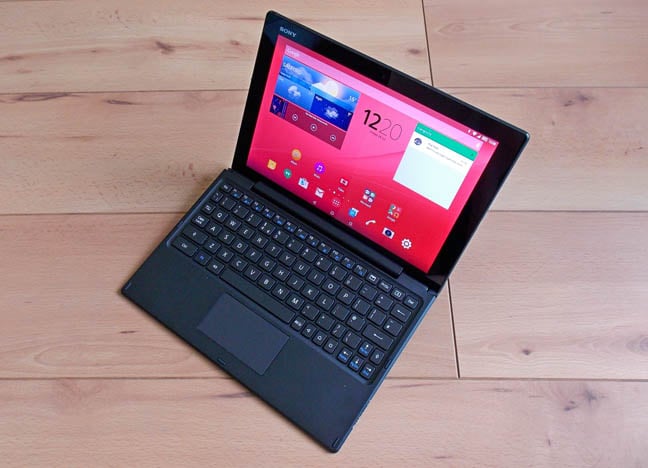 A laptop experience? Perhaps a bit of a stretch, but it's not too bad actually
What else is there to say? Well, the Z2 Tablet's infrared transmitter has been dispensed with but you still get an NFC chip and the keyboard has one too, making pairing the dock and tablet a zero-fuss operation. The Bluetooth radio has been bumped from 4.0 to 4.1 and there's an FM radio as well. The GPS now supports Beidou as well as A-GPS and GLONASS. Oh, and the SIM slot now takes a nano rather than micro card.
The Reg Verdict
If you don't baulk at the price, the Z4 Tablet is the pick of the Android tablet crop at the moment, at least as far as full-sized, 10-inch fondleslabs go.
The slim profile and bantam weight are obviously appealing features, as is the 4G connectivity and rather impressive keyboard dock. The powerful chipset, visually impressive screen, strong battery life and good-for-a-tablet cameras are the icing on a pretty darned fine Android cake. ®

Sony Xperia Z4 4G Android tablet – gift of sound and vision
Android Lollipop tablet with a 10-inch 2560x1600-pixel display, 2GHz Qualcomm Snapdragon 810, 64-bit Octa Core CPU, 8.1MP and 5.1MP camera, 6,000mAh battery and IP65/68 rated protection
Price:
£499 (32GB, Wi-Fi with keyboard), £579 (32GB, 4G with keyboard) RRP