This article is more than 1 year old
Seagate flaunts 4TB-ish enterprise SAS flash that can shift 1.8GB/s
Micron-assisted with variable endurance ratings
Seagate has announced a not-quite 4TB, dual-port SAS SSD technology, built in an alliance with Micron: the drive giant is touting four 1200.2 products defined by their endurance. Micron is using the same tech in its S600DC SSD products.
The 1200.2 is the first SSD, Seagate says, to optimize dual-port SAS capability, resulting in sequential read speeds of up to 1.5GB/sec, compared to a maximum of 750MB/sec with the earlier 1200 SAS SSD.
The four 1200.2 products, each with a five-year warranty, are:
High Endurance (HE) with 25 full drive writes per day (DWPD)
Mainstream Endurance (ME) with 10 DWPD
Light Endurance (LE) with 3 DWPD
Scalable [or crap] Endurance (SE) with 1 DWPD
They all use Micron eMLC flash, which we think uses 16nm geometry, instead of the 21nm Samsung MLC NAND used in the earlier 1200 products. Their capacities and endurances vary in an organized way and here is a DWPD/capacity matrix:

The pattern shown indicates that, as capacity goes up, endurance goes down.
The four models all have an average latency of 115μs and are optimized for reading over writing. Generally, as endurance goes up so too does IOPS and bandwidth performance, with random read IOPS and sequential write bandwidth changing most.

Seagate 1200.2 IOPS and bandwidth by model type
So, knowing this we can classify the four products like this:
1200.2 HE – write-intensive
1200.2 ME – mixed read/write use
1200.2 LE – read-intensive
1200.2 SE – highly read-intensive
The existing 1200 SSD offers multi-path I/O features to help ensure high data availability with failover redundancy and no single point of failure. Dual-porting the SAS interface in the 1200.2 helps this too.
Data security options have increased to three from the 1200 SSD; secure diagnostics and download (SD&D), Seagate Secure Self-Encrypting Drive (SED), and FIPS drive.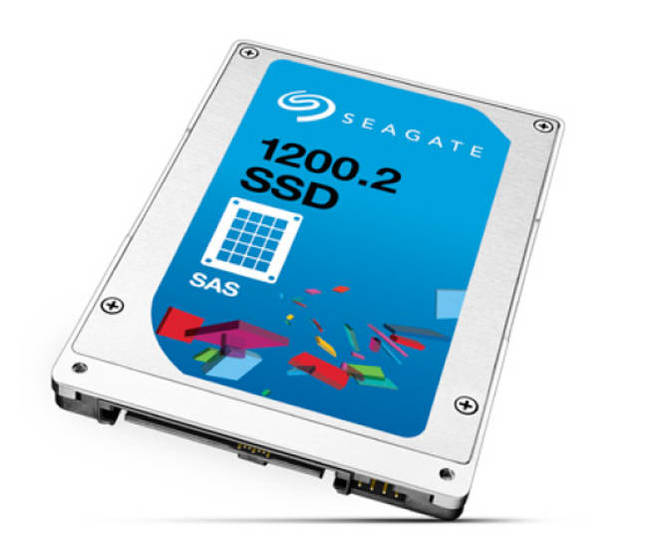 Seagate 1200.2 SSD
Competition
Seagate trails HGST in the SAS enterprise SSD area. How will it likely fare against HGST with its 1200.2 product?
First of all, we note that no OEM qualifications are mentioned. Secondly, Micron is selling its own and similar S600DC products. Unless Micron and Seagate have a market split arrangement, they will be in competition with each other for OEM deals.
HGST has its Ultrastar SAS SSDs, with the 800MH offering 25 DWPD, the 1600MM 10 DWPD, and the 1600MR providing 2 DWPD, all for 5 years. The maximum capacities are 800GB, 1.6TB, and 1.6TB respectively. Seagate's 25 DWPD HE model tops out at 400GB. The 10, 3, and 1 DWPD Seagate products have maximum capacities between 3.2GB and 3.84GB, comfortably surpassing the Ultrastar's.
Seagate offers four endurance levels compared to HGST's three.
The HGST drives' performance is 130,000 random read IOPS and 1.1GB/sec sequential read bandwidth, which the Seagate 1200.2 drives comfortably exceed as well. Interestingly, these HGST drives use 25nm Intel eMLC flash. Intel shares output from its IMTF joint venture's foundries with Micron, so we might expect the Ultrastars to move to the latest 16nm MLC flash from these fabs soon enough.
They won't get the benefit of Seagate SSD controller tech, if it's better than HGST's own, or of Micron's technical know-how, but dual-porting SAS interfaces isn't rocket science so they can get an IO speed bump that way.
Micron
Micron is being fetchingly coy with information about its new dual-port SAS drives; perhaps to give Seagate priority in the limelight.
We're told that the S600DC is a 4TB drive, but then a Seagate blurb says its 1200.2 SSD is a 4TB drive too, when it's actually a 3.84TB one max. The S600DC also gets up to the same 1.8GB/sec sequential read bandwidth as Seagate's new SSDs.
However, there are only three models; S610DC, S630DC, and S650DC, and these will, we guess, vary by performance, capacity, and endurance for read-intensive, mixed workload, or write-intensive applications, as Seagate's four 1200.2 models do. As three into four won't go exactly, we expect Micron's range to differ in the details from Seagate's, when the details are released.
Availability and (no) pricing
The 1200.2 is available to OEMs and system builders developing enterprise-class flash storage products. It's also available to enterprises themselves looking to boost SAS infrastructure performance. It can be seen at Seagate's booth #505 at the Flash Memory Summit in Santa Clara, CA next week, and will ship to Seagate channel partners this month. There is no pricing information.
Micron's S600 series SSDs are in initial production and will be sold directly to data center equipment manufacturers and through Micron's distribution partners. ®