This article is more than 1 year old
John McAfee cuffed by Tennessee cops, faces drug-driving, gun rap
Gaffe-ey McAfee in slap-happy mugshot
Pic Paranoid wild man of infosec John McAfee was arrested in the US state of Tennessee over the weekend – and charged with driving under the influence, and possession of a handgun while intoxicated.
The charismatic ex-boss of security software biz McAfee can be seen grinning in his police mugshot.
"Yes, I was arrested while under the influence of Xanax," McAfee the man told El Reg on Tuesday evening.
"It was a brand new prescription received the same day of the arrest, and the physician neglected to warn me about driving while taking it. As to the weapons, I always carry them and, unless one is impaired, they are legal to possess and carry."
TV news channel WBBJ reported that McAfee, a West Tennessee resident, was picked up on Highway 22. Henderson County Sheriff Brian Duke confirmed to the Jackson Sun that the software guru was arrested on Sunday night.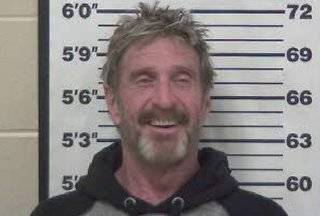 LOL ... McAfee's mugshot
The eccentric playboy has made light of his apparent affinity with mind-altering substances and America's Second Amendment, most infamously in this video (NSFW).
More recently McAfee has commented on more weighty issues, such as throwing his support behind NSA whistleblower Edward Snowden, calling him a "hero," and demanding more privacy for citizens.
In June he criticized politicians who have demanded backdoors in software and watered-down encryption. "We cannot allow a fearful government to create weaknesses in the very software we are trying to protect," McAfee said. "By putting backdoors in the software, we have given hackers the access we are trying to prevent." ®
Psst: McAfee's official Facebook page says "the shootout with the police was highly exaggerated," although, er, no one mentioned a shootout.