HP hikes up specs on hyperconverged offering
CPU and RAM boost will take the fight to Nutanix and SimpliVity
---
Days after running its EVO: Rail product off its rails, HP has landed a new hyperconverged system, updating the CS-240 product to the CS-250 by doubling RAM and using Intel Haswell CPUs to add performance punch.
It's also adding software disaster recovery, a three-node configuration, and down-pricing against Nutanix.
The ConvergedSystem 250-HC StoreVirtual (CS-250) is fitted with gen 9 ProLiant servers – the Apollo 2000 system, we think.
As with the CS-240s, the CS-250 is a 2U box containing up to four server nodes, with included storage media and StoreVirtual virtual SAN software to aggregate each node's storage into a single pool. Memory can now reach 2TB, the previous CS-242-HC StoreVirtual product having only 1TB of memory in its four-node configuration.
By checking various HP document sources we've worked up a comparison table for the CS-240 all-disk, CS-242 hybrid and CS-250 configurations.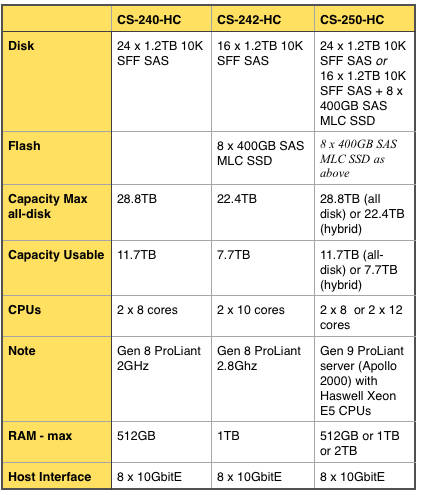 HP CS-240 and CS-250 comparison.
HP CS-240 and CS-250 comparison.
How much more powerful is the CS-250 versus the CS-240? With punchier CPUs and double the RAM, we'd expect a 50-100 per cent performance uplift.
HP says you can scale storage capacity independently from compute power. There can be up to four CS 250-HCs in one resource pool, and admins can manage multiple pools from one management console.
The CS-250s are configured for vSphere v5.5 or v6.0. As with the CS-240s, they come with OneView InstantOn. HP claims they need only 10 minutes' deployment and five minutes of keyboard time to be production-ready.

CS-250-HC has a nice bezel
There is a OneView for VMware vCenter plug-in for management from vCenter
The CS-250 supports VMware, but its StoreVirtual software runs with KVM and Hyper-V as well. Perhaps we will see other CS-250 models for those environments in the future.
Customers can buy an additional set of 3 x 4TB StoreVirtual VSA licences and replicate data to any other HP StoreVirtual-based system, or any VMware cluster, to protect against disaster. It's software-only with the ability to use existing target hardware and so save money.
This CS-250 three-node config is "up to 49 per cent more cost effective than comparable configurations from Nutanix and other competitors*". We don't have a four-node cost comparison.
CS-250-HC rear view
There's a nod to cloud hybridity with Helion CloudSystem 9.0 built on the CS-250. It's then called a hyperconverged cloud system and "adds self-service portal provisioning and public cloud bursting features", HP said.
Availability
There is a custom to-order purchasing capability, we're told. The four-node CS-250-HC StoreVirtual is available on 17 August with three-node configurations coming on 28 September. A three-node CS-250 with Foundation Carepack and VMware vSphere Enterprise lists from $121,483.
Helion CloudSystem 9.0 will be available in September. Some software-defined storage design and integration services are available now. ®
Bootnote
* According to a list price comparison of the CS-250 and the IDC price book list price of the Nutanix 3360 G4, each with 24x7 support.