This article is more than 1 year old
Testing Motorola's Moto G third-gen mobe: Is it still king of the hill?
Jockeying for position in the mid-range mobe market
Review It's been relatively easy recommending a SIM-free phone for under £200 for the past couple of years. The decision tree looked like this: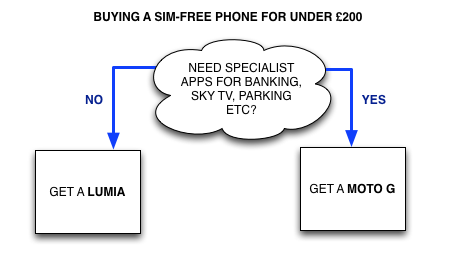 If you wanted those specific apps, you'd want to consider the Moto G. But if you didn't, then the Lumia range gave you a better phone at any sub-£200 price point. Windows Phone was intended to be an iPhone killer and has resoundingly failed at this, but the platform turned out to be much less demanding than thirsty Android, which meant you could build a superior budget phone for a decent margin.
Cheap "landfill" Androids could hit the price points, but only at the expense of poor performance, or poor displays, stinkingly poor imaging, or some other corner-cutting measure, while Nokia was able to focus its expertise on making the experience of cheap Lumias an agreeable one.
Not only was the phone nicer, penny for penny, but the experience was nicer too. Above £200, the picture became much more complicated, but below £200 Motorola's Moto G (and its cheaper sibling the Moto E) stood out above the acres of Android.
The problem is, now that it's reached third generation maturity, the Moto G is no longer swimming in the landfill swamp. The Moto G that I have used here, the 16GB model, is a very fine phone indeed ... but it sets you back £209.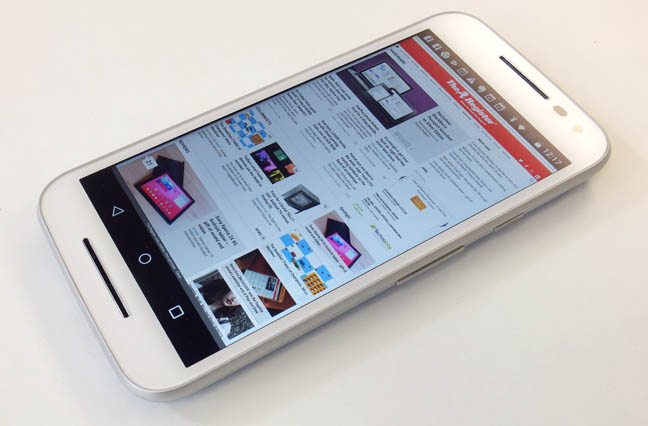 Available with 8GB or 16GB internal storage, although the latter gets more RAM too
You can pick up an 8GB model for £179, but why would you bother when there's a 16GB available? Particularly since the £209 model is fleshed out with 2GB of RAM, which makes a serious difference on a loaded phone. SD Cards were off limits to developers in Android APIs until recently, and running apps from a removable memory card is still a bit of a crap shoot.
This isn't to say it's the third generation G is a bad phone. It's a very good phone. It's going to be all the phone a lot of people ever need. Like its smaller, cheaper predecessors everything about it feels right: the customary qualities of a sharp and bright display, solid construction and booming sound are here too, but in a classier chassis.
And it's also very good for its price, too, bringing real quality to the economy end of the midrange.