This article is more than 1 year old
Teradata blots copy book with first loss in years
Goodwill impairment clobbers profits as customers delay purchases
Teradata lost $265m in its second quarter 2015 as a $340m goodwill impairment charge hammered profits, along with continued deferrals of large transactions and longer sales cycles.
Revenues in its second calendar 2015 quarter were 8 per cent down year-on-year at $623m, while net income plunged from $96m a year ago to a the $265m loss. It's the first loss in many years of trading.
The first 2015 quarter was pretty poor and this continued the bad run with a second quarter of declining revenues and a really badly timed impairment charge. That's a one off, but two quarters of declining revenues with customers baulking at large purchases suggests deeper problems.
CEO Mike Koehler was fairly downbeat in his canned quote: "We believe Teradata is positioned for constant currency growth in the second half of 2015. The integrated business units we created earlier this year – the Data and Analytics and Marketing Applications Divisions – are showing progress. With better aligned and focussed end-to-end resources, we are rapidly advancing our growth initiatives and improving operating efficiencies."
Meaning foreign currency conversion problems might prevent growth in non-constant, reported currency terms.
He added: "We remain confident in our industry-leading solutions and competitive positions in the markets we serve, and have a number of actions in progress to better position Teradata in 2016 and beyond. As always, we will continue to evaluate new initiatives that can benefit our business and enhance shareholder value."
That "evaluate new iniatives" phrase is opaque, oblique and perplexing. It could nean anything from starting up a new business, to re-organising the company and even selling bits or even all of it.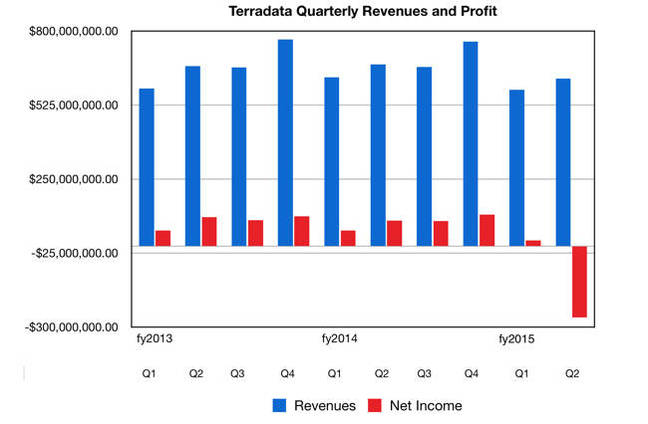 The goodwill impairment was related to the recently created Marketing Applications business unit. This, Teradata said, "provides leading solutions and services for digital marketing, marketing resource management, omni-channel marketing and marketing analytics". Appoxee, an Israel-based startup with push-messaging technology for cloud and mobile users, became part of it in January when Teradata bought it for $20-25m.
Teradata expects lower revenues for the full 2015 year now, because of continued deferrals of large transactions and longer sales cycles: "Full-year 2015 revenue is now expected to be approximately down 3-6 per cent on a reported basis, up 0-3 per cent on a constant currency basis, as compared to the prior year." A net loss can be expected as well. ®