This article is more than 1 year old
Stuffing the wafers: SanDisk presses on with 48-layer 3D NAND chip
Playing catch-up with Samsung
32 layers is so yesterday, man. SanDisk has a 48-layer 3D NAND chip in pilot production. Yeah, you heard me, the big four-eight.
This can be seen as catch-up work as Samsung is now shipping its second generation 3D V-NAND chip, with 3-bits/cell and Dell using these 128Gbit dies in the SC-Series of storage arrays to offer larger amounts of flash at lower per-GB prices than before.
The SanDisk chip has a 256Gbit capacity, double Samsung's, and is also a triple-level cell (TLC - 3bits/cell) design. Production is being piloted with foundry partner Toshiba at its Yokkaichi plant.
It has half as many layers again as Samsung's chip, being equivalent to having 48 planar, 2D, NAND chips layered one atop the other.
SanDisk said it is a BiCS design and will "provide enhanced write/erase endurance, write speeds and energy efficiency relative to conventional 2D NAND".
That's because it uses wider lithography than current 16nm chips from SanDisk and Toshiba, giving it longer endurance.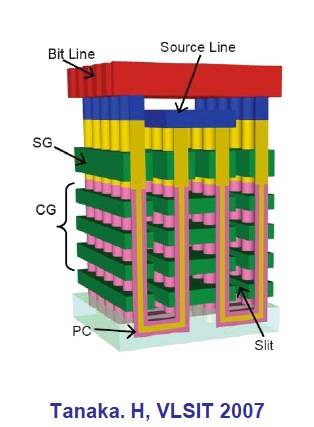 Toshiba BiCS schematic
It is somewhere in the 40nm-24nm area we think, with SanDisk not releasing the actual number. Although each layer has less capacity than a 16nm 2D chip, the 48 layers in total provide much more total capacity in the same chip footprint.
The pilot production process aims to fine-tune production and sort out things such as getting an acceptable level of chip yield. That's why an actual general availability date isn't, well, erm, available.
We can expect Samsung to produce a 48-layer refresh of V-NAND by the end if 2016, if not before.
What this means is that flash capacities in consumer and mobile devices could easily double, making them faster and able to run more complex software.
Enterprise storage will find more capacious flash stores for hot data coming its way, meaning faster applications and more effective servers. It's all very good news.
SanDisk's three dimensional, three-bit chip is going to ship some time in 2016. ®