This article is more than 1 year old
Safe as houses: CCTV for the masses
App equipped cameras all ready to keep an eye on you and yours
Netgear Arlo
Arlo is perhaps the closest of these devices to what you might call a traditional surveillance system, in that it's based around cameras and nothing else. The cameras, of course, are HD and have night vision and motion detection, but there are no other sensors available for the system and no audio recording either.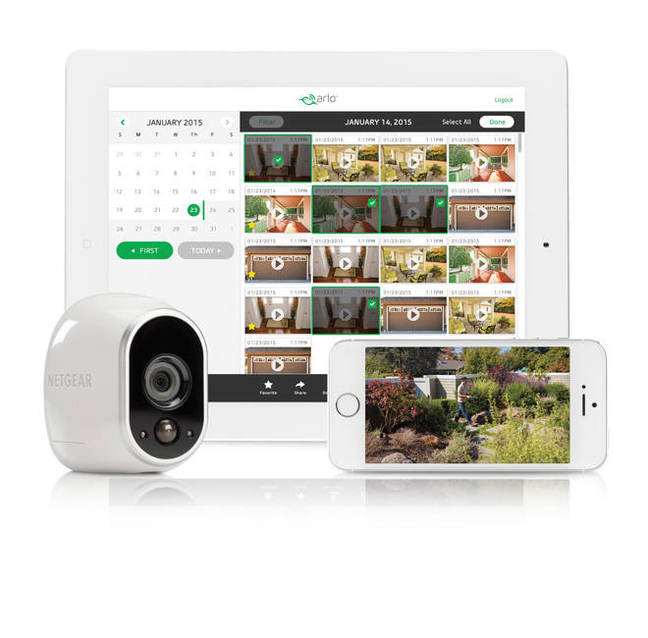 As well as the cameras, Arlo includes a base-station which links to your home network
Our test system included two cameras and a base station. The latter plugs in to your home network via ethernet and is paired with the cameras by pressing a button on the base and then on the camera. The cameras are fag-packet sized and run on four CR123 batteries, so there's no wiring needed at all, one of Netgear's key selling points.
On the rear of each one is a small concave area, behind which is a magnet. The wall mounts are most gratifyingly like Dalek bumps. Pop a single screw in the wall, slide the bump over it, and then the camera just clings to the bump by sheer force of Dalek will. Or perhaps magnetism.

Is there a Dalek buried in this wall?
Basic use of Arlo is free; there's 1GB of cloud storage for clips, which are retained for seven days, and you can have one base station with up to five cameras. That should, frankly, be enough for most domestic users. For £6.49 per month, or £64 per annum, that can be boosted to 10GB and 30 days of storage, with up to ten cameras. The 'Elite' level at £9.99/£99 will give you sixty days storage, and up to 15 cameras across three bases. Everyone gets all the same software features, but the paid levels get priority support.
Those software features include the use of rules, which allow you to specify the action of each camera when motion is detected. You can select whether or not notifications are sent by email. Rules are grouped into Modes, like 'Home' or 'Away' which can then be applied manually or have selected according to a schedule.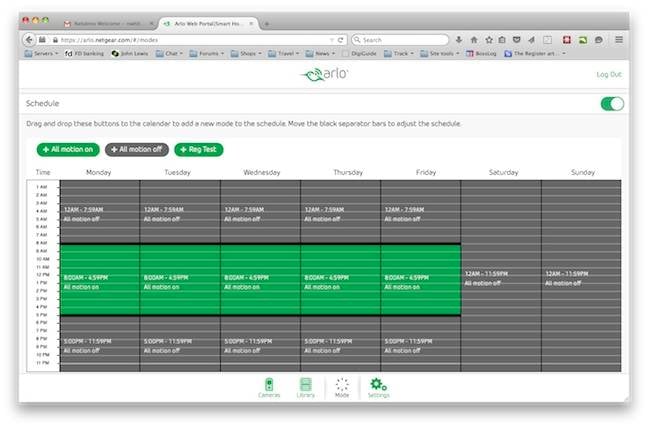 Different rules for Arlo can be applied according to a schedule
There are some niggles, though. For example, you can't be signed in to the app and the website at the same time. If you're using the app, and someone signs in to the website, you'll be signed out. And adjusting the sensitivity for the motion detection is a bit odd. In the app Settings there's a slider with a percentage. It turns out that a higher percentage is more sensitive, but you have to dig around the support site to learn that.