This article is more than 1 year old
Safe as houses: CCTV for the masses
App equipped cameras all ready to keep an eye on you and yours
Eye spy
The main thing Welcome does is keep an eye on who comes through the door, and alert you when people are seen. It can record video as well, which is encrypted and stored on a micro-SD card, rather than in the cloud. The clever bit is that it recognises faces. So, you can have a notification telling you that your wife has come home, or that the kids are safely back.
It's also possible to set recording options, based specifically on the faces that have been detected. It's easy, for example, to exempt your sexy au-pair from being recorded. Welcome decides if people are home or not depending on when they were last seen (and optionally, your phone's GPS). You can select whether notifications and recordings happen all the time, only when no one's home, or never.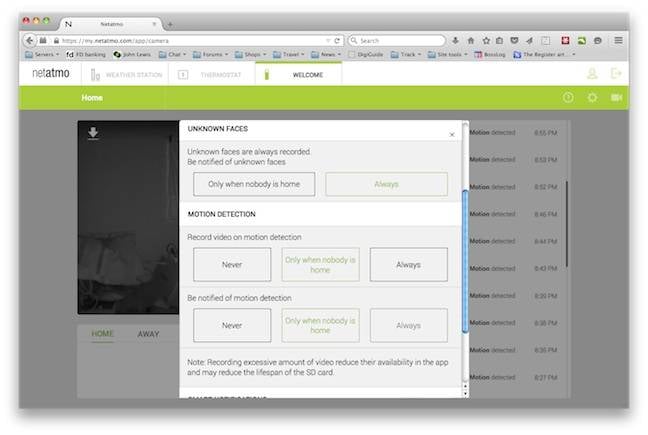 You can choose whether recordings are done all the time, or only when you're away
I did have some initial setup problems, with the Welcome complaining that it couldn't reach Netatmo's servers, unless I turned off my router's firewall. The support team said that ports 500 and 4500 UDP need to be opened, and in the normal course of events, you would assume that means incoming traffic to those ports on your system. In fact, it's the other way round; you need to allow connections from UDP 4500 to come into your network.
While my network is a little unconventional (fixed IP range, with a router firewall, and then devices like Welcome behind an Airport Extreme providing NAT), Welcome is the only device of this type where I've had to tweak the rules to make it work.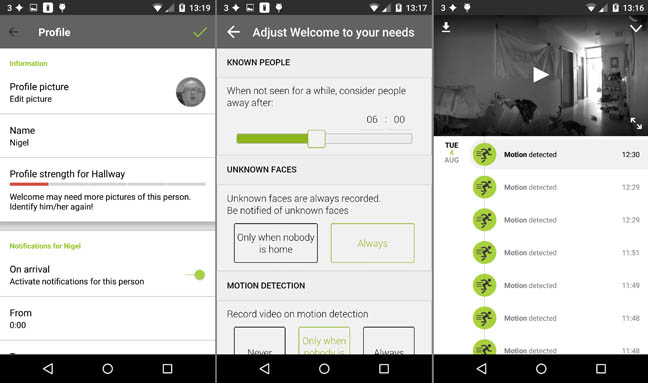 Netatmo Welcome on the move: app screens for user profile, record settings and clip listings
Once the tweaking was done, setup was relatively straightforward. You can do it via Bluetooth from your mobile, or with a USB cable from a Mac or PC. In both cases, you tell Welcome which network to connect to, sign in to Netatmo's service, and then you can start teaching it.