This article is more than 1 year old
Safe as houses: CCTV for the masses
App equipped cameras all ready to keep an eye on you and yours
Motion graphics
Welcome will let you know each time movement is detected, and when it sees a face. To start with, those will all be unrecognised, and a long tap in the app – you can't teach it faces via the website – lets you create users, or indicate that an unrecognised face belongs to an already known person.
Viewing video on the website is slow – clicking to download a clip resulted in a message from Firefox that it would take five minutes. It's much faster in the app, which presumably isn't round-tripping it via Netatmo's server. Playing video via the website is, frankly, best avoided and you can't view video directly from the micro SD card as the process of downloading it via the app or web site decrypts the content.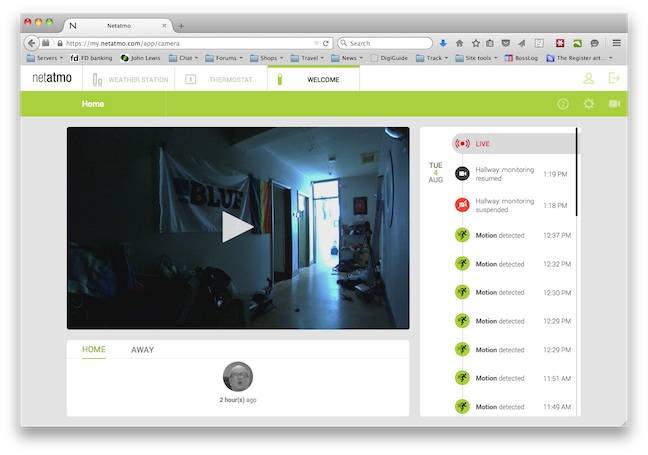 You can check in via the web, but accessing video is slow
There's one other part to Welcome that I wasn't able to test, which is called Tags. These are motion and vibration sensors, which are due to be launched in a month or so. You can put them on a door or window to let you know when it's been opened. Combined with the camera, they make the system much more like a traditional security setup. As with Arlo, you can grant other users access to your camera as well.
Watching brief
Both the cameras I looked at this week will let you keep an eye on what's going on in your home, in different ways. Arlo is clearly much more like a traditional CCTV system, and if your main concern is knowing when people come on to your property, or enter a certain room, it'll do the job. It might be the ideal sort of solution for a small office, and the cloud storage means that you'll be sure of access to crucial recordings, even if the worse happens.
Netatmo's different approach will better suit people who want to know when someone's home and it also records audio. It could be useful, for instance, as a way of checking up on elderly relatives, as well as children. Though with footage recorded on an SD card for privacy, there's surely a risk that before too long, savvy thieves will know that they should grab the camera on their way out.
That said, even if Welcome is disconnected, all events that occurred before that (motion or face detection), just a few seconds earlier, will be in the timeline (if the settings allow it). And if the device goes does get nicked, the app will have snapshots of these final events to view, rather than video.
Next week, I'll be looking at two more systems, from Piper and Swann, which both have their own unique take on home security and monitoring. Meanwhile, don't have nightmares. ®