Big operating expenses rise clobbers Dot Hill's otherwise healthy profits
Stop buying paperclips you guys, please
---
Storage biz Dot Hill is back and boasting a third quarter of double-digit revenue growth – but also reports anorexic profits caused by some whopping admin expenses.
Its second 2015 quarter showed revenues of $61.5m, 28 per cent up on the year-ago's $48.2m and marginally more than the previous quarter's $61.1m.
Dot Hill enjoyed profits of $685,000, better than the $80,000 loss recorded a year ago but well down on the previous quarter's $3.9m – and the $8.5m before that. It could have been a lot higher, as we shall see.
The company ships disk array enclosures to OEMs and has added a roster of smaller OEMs to its customer list as revenues from big ones declined.
The successful result of this has been revenue growth for three quarters and profits too, though these are falling off.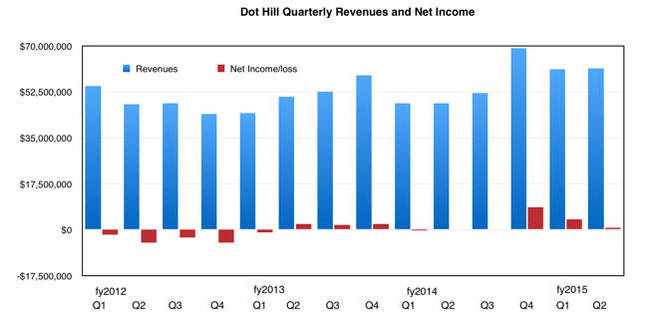 What did the company have to say about this? CEO and president Dana Kammersgard said: "I continue to believe we are the only storage company guiding and posting double digit revenue growth with profits growing disproportionately faster."
Profits don't look so good on the quarterly trend line, though, Dana.

Pretty dismal right? We have had three quarters of profit before, at a lower level, and they led to three quarters of losses. That doesn't look likely now, but the trend line is heading down at quite a lick.
Why? Look at its operating expenses. The company stated its opex for the latest quarter was $19.4m, compared with $16.0m a year ago and $17.1m in the prior 2015 quarter.
Looking into the details here, it's research and development costs looked flattish as did its sales and marketing. But general and admin expenses, coming in at $5.96m, were 86 per cent up on the previous quarter's $3.2m – and 109 per cent higher than the year-ago quarter's $2.85m. That's a huge jump.
Every dollar spent there seems to be a dollar taken from the profit line. If Dot Hill's opex had been at the first quarter's level, profits would have been $3m. Stop buying so many paper clips, or whatever.
Dot Hill's third quarter is seasonally higher than its second one, so let's hope its costs don't grow, while its revenues continue to embiggen. ®