This article is more than 1 year old
Microsoft co-founder recovers ship's bell of 'The Mighty Hood'
Artifact will be memorial to victims of battlecruiser disaster
A team led by Microsoft co-founder Paul Allen has recovered the ship's bell of battlecruiser HMS Hood – the pride of the Royal Navy, which, on 24 May 1941, was sent to the bottom of the North Atlantic by the German battleship Bismark, with the loss of 1,415 lives.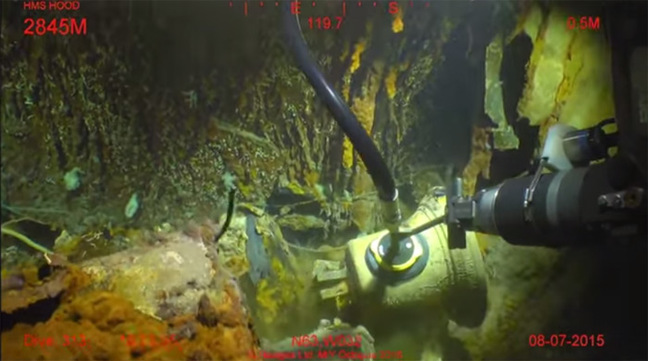 An ROV operated from Allen's yacht M/Y Octopus grabbed the bell at a depth of around 2,800 metres. The success comes after a failed 2012 attempt to recover the artifact due to "prevailing weather conditions and technical difficulties".
Allen said: "This year marks the 70th anniversary of the conclusion of World War II, and this effort commemorates the hundreds of brave sailors who were lost at sea. It is a true honour to undertake the expedition to recover the bell from 'The Mighty Hood'."
The bell is in good shape, but will require "a year-long expert conservation and restoration effort because it has spent so long in deep seawater." Once it's fit for public consumption, it'll be put on display at National Museum of the Royal Navy (NMRN) in Portsmouth.
Video showing recovery of HMS Hood's bell
The First Sea Lord, Admiral Sir George Zambellas, explained that the recovery will "help ensure the 1,415 men lost, and the name Hood, will always be remembered by a grateful nation."
He said of the tragic battlecruiser: "A magnificent symbol of the power of the Royal Navy in the inter-war years, 'The Mighty Hood' is one of the greatest fighting ships in our nation's long and glorious maritime history.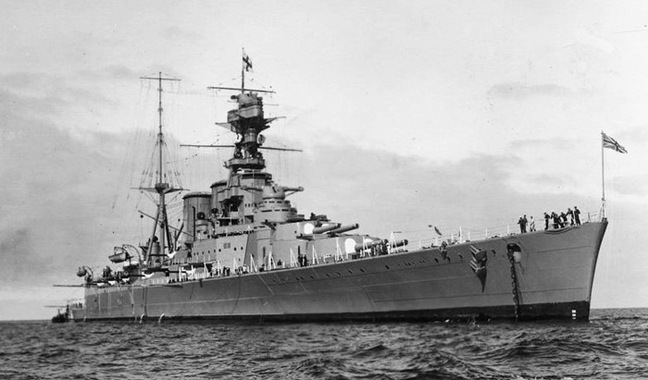 The Mighty Hood
"That she was lost with her guns thundering in defence of the convoys that formed Britain's lifeline is a tragic reminder of the high price that our island nation paid for survival, and for the freedom and prosperity we enjoy today."
HMS Hood sank within three minutes of being hit by one or more shells from Bismark, which provoked a catastrophic magazine explosion. There were just three survivors: Ordinary Signalman Ted Briggs, Midshipman William John Dundas and Able Seaman Robert Tilburn.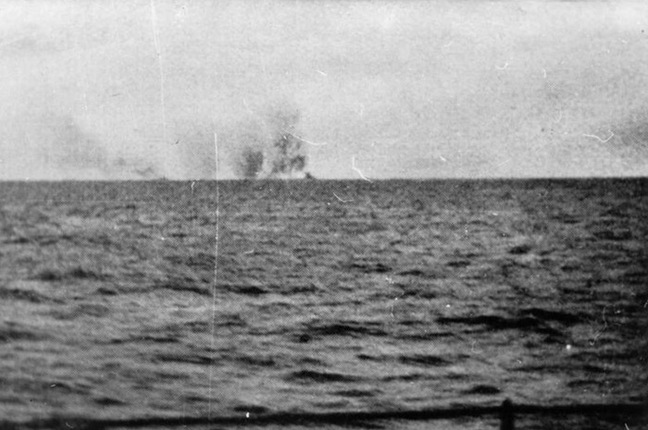 The Mighty Hood explodes, as seen from the German fleet. Pic: Bundesarchiv Bild
Until his death in 2008, Briggs was an active member of the HMS Hood Association, twice serving as president. The current president, Rear Admiral Philip Wilcocks, who lost his uncle in the disaster, said: "The HMS Hood Association is extremely grateful to Paul Allen, David Mearns and the crew of M/Y Octopus for their tremendous efforts and professionalism in recovering the bell of HMS Hood from the dark depths of the Denmark Strait. In particular, Paul Allen's support has been outstanding and we applaud his personal commitment to the recovery operation." ®