This article is more than 1 year old
Introducing the Asus VivoMini UN42 – a pint-sized PC, literally
The Celeron cost-cutter for us simple folk
Review You only have to own a mini PC for a short while to understand the attraction. Minimal footprint, easy to handle and with any luck, a useful selection of interfacing options. Go for the latest fifth generation Intel chips and you can have sufficient grunt to tackle even the most arduous of desktops tasks.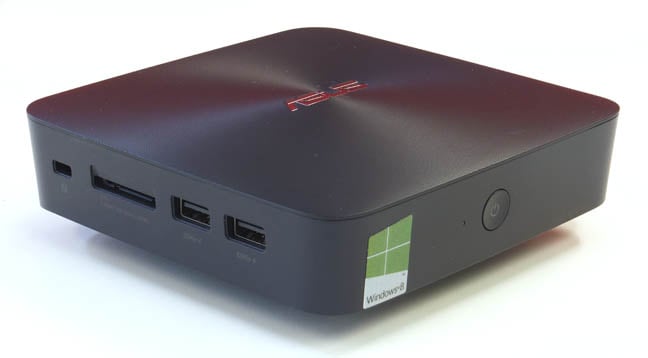 Thinking small: Asus VivoMini UN42-M054Y
Time was when Apple's Mac Mini would have people cooing over its size but these days, due in no small part to the disappearance of optical drives, as well as more efficient chipsets, anyone can have a crack at the diminutive computing.
Indeed, Intel has made a virtue of it with its NUC (Next Unit of Computing) small form factor PC, the latest fully loaded model we reviewed recently.
Intel's offering isn't the cheapest you can find even though it can be bought as a barebones machine. The Acer Revo One, that we've also put through its paces recently, has a lot going for it too, featuring storage dual-bays and a remote control and Celeron or fifth gen Core i3 and i5 versions.
The Asus VivoMini is yet another choice in the mini PC marketplace that kicks off with an Intel Celeron CPU (same chip as the Acer) or fourth gen Core i3 and Core i5 alternatives.
On test here is the VivoMini UN42, which, apart from the barebones version at £125, is the cheapest model in this Asus range costing around £200. Kitted out with an Intel dual-core 1.4GHz Celeron 2957U processor, integrated Intel HD Graphics, 2GB of DDR3L RAM and a paltry 32GB SSD, this set-up will chug along nicely if you don't punish it too much... or save large files to the SSD.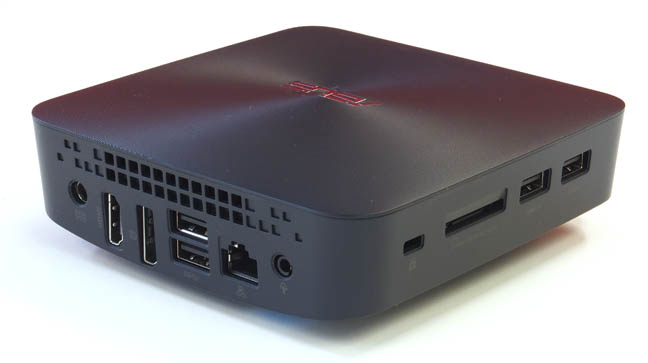 A decent crop of interfacing together with 802.11ac Wi-Fi and Bluetooth 4.0
Put it this way, if you're doing everyday tasks such as web browsing, YouTube or iPlayer viewing and routine MS Office tasks, then you'll not find anything to complain about. However, if you fancy transcoding some video, be prepared for a wait.
With just a power button and activity light on the front, the left side houses two USB 3.0 ports that support battery charging which explains why the mouse was still glowing when the unit had been shut down. There's an SD card slot here too and around the back a mic/headphone combo audio jack socket, Gigabit Ethernet, two more USB 3.0 ports, plus full size DisplayPort++ (dual mode) and HDMI connectors.
The latter two enable up to three monitors to be connected for an extended desktop or cloned displays if DisplayPort monitors are daisy-chained. The UN42 also features Bluetooth 4.0 and the Wi-Fi supports 802.11ac.
At just 131 x 131 x 42mm, it's smaller than most takeaway portions and notches up a mere 0.6-litre volume, which is just over a pint. The Asus spec reckons it weighs 1kg, putting in brackets 1.32lbs, which anyone with a bag of sugar at home can tell you, 1kg = 2.2lbs. Whatever it works out as, it's certainly not a burden to carry.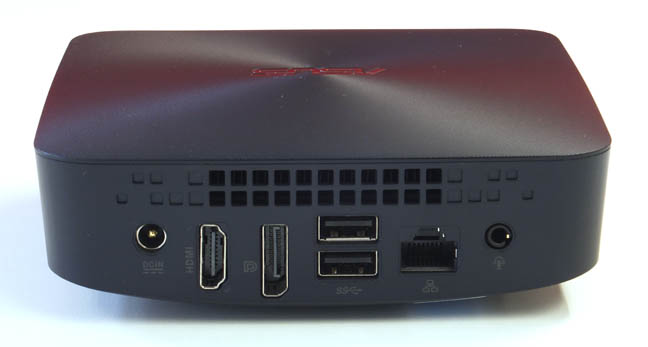 It relies on an external PSU, of course, but it's light and not too bulky
What is a burden though, is the process of chewing through what must have totalled at least 2GB of Windows updates. Given the slow speed of the processor, getting through the installation will eat up an afternoon and then some. It also eats up your SSD space. There's not a lot to begin with after the system has had its share and 13GB is set aside as a recovery partition.