This article is more than 1 year old
RSA chief uncans insurance giant's mega IT infrastructure review
'Outsourcing hasn't worked,' says Price in new drive to digitise
Interview Zurich Insurance, Europe's third-largest insurer with $70bn in revenue and 55,000 staff, hinted last week that it might buy RSA Group. Yet six major acts of M&A have saddled RSA with 15 data centres, managed and run differently and propping up a creaking architecture.
Worth £4.5bn and with 19,000 staff and 20 million customers, RSA Group is one of Britain's oldest insurance firms. It owns MORE TH>N – the nifty dot-com insurance site created in 2001 – whilst running insurance services of John Lewis, Marks & Spencer and Tesco.
RSA as we know it now was formed in 1996 from the $6bn merger of Royal Insurance and Sun Alliance – but their commercial roots date back 300 years to the 1700s.
A success, you might think, but recent times and business have been unkind to RSA.
2013 was a low year for RSA, with a scandalous £200m shortfall in capital in its Irish business that saw its CEO fall on his sword. His replacement, Steven Hester, hailed from another troubled giant – RBS Group. 2003 also saw RBS report a £244m loss.
Another bout of corporate M&A is the last thing RSA needs; should Zurich swallow the British insurer, it might make things worse for all concerned. Hester seems unwilling to let the company go.
Technology – particularly infrastructure – has been singled out as integral to a strategic revamp to transform the firm's fortunes. The attitude towards tech at RSA has shifted from cost-cutting and keeping the lights to greasing business to become a player in today's agile financial services world.
Group CIO and group executive member Daren Price is now the captain of a massive infrastructure transformation project currently working its way through RSA. He spoke to The Register just over a year after achieving what many CIOs dream of attaining: a seat on their company's executive committee.
At the time, RSA billed Price's position as demonstrating its commitment to driving performance improvements through the use of "effective technology."
That's part of an overhaul strategy unveiled in February 2014 that's seeing RSA pull out of countries and business lines considered "non core".
Echoing those words from early 2014 a year on, Price reckons being on the executive committee has raised the profile of the importance of IT in RSA – to help him drive the technology change deemed critical to achieving success.
"From a peer perspective, it gives me more profile and accountably and responsibility to have the right discussions and debates," he said.
Price spoke to us from the car-melting, vortex-amplifying Walkie Talkie building – 20 Fenchurch Street, in the City of London, SA's head office before the Zurich news broke.
"It's a cultural change. It's very important that we are driving a technology agenda aligned to the business transformation and it's positioned right within the group," said Price. "It helps on messaging and driving alignment and it certainly helps externally with perception in the market and dealing with vendors."
So just how bad are the things he's trying to fix?
How about taking three months simply to code and deliver a rate change in the mainframe-based policy, rate and claims system in Canada. Or that RSA's UK data centres are running at 12 per cent utilization versus a market average of 60 per cent, according to benchmarking conducted by Price.
"That tells me not only have I got an inefficient environment but I've got an expensive environment and I'm not getting the right flexibility at standing up services," Price told The Reg.
Financial services firms are today swimming in a tide of mobile apps and multiple log ins, multimedia and real-time updates.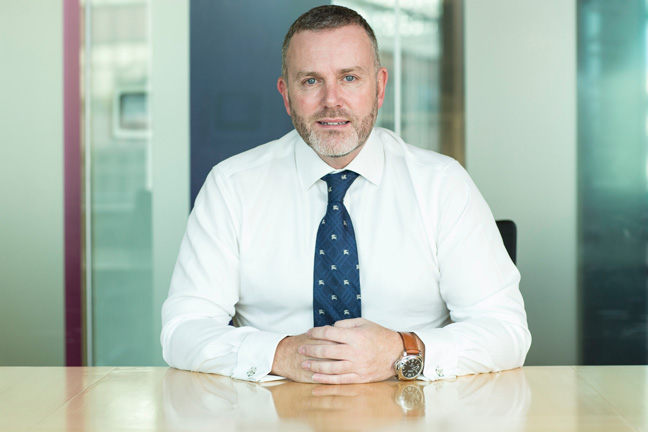 Darren Price: IT chief with executive board view
Speed and flexibility are key to coding new apps and services – not just to RSA's own, direct business but also to that of John Lewis, M&S and Tesco, whose insurance offerings are based on RSA's white-label products.
Getting it wrong doesn't just hobble RSA; it hurts John Lewis, M&S and Tesco, who turned to RSA precisely to gain a competitive edge over other insurance retailers. Lurking in this lot is the risk that John Lewis et al could up sticks to another provider.
An ossified infrastructure has been compounded by the last decade's mania for outsourcing, of which RSA stands guilty as charged with so many other in financial services.
It signed a ten year, "multi-million" pound IT service deal with IBM to manage UK IT infrastructure in 2007 spanning 40 existing suppliers and a £250m, seven-year business process outsourcing deal with Unisys in 2002 for life insurance and pensions. Jobs went: 1,000 were axed across the UK in 2006 as part of the £130m cost-cutting exercise.