This article is more than 1 year old
Telstra's Netflix downloads get EVEN SLOWER
Even Dodo streams 'flix faster than the Big T
Netflix has released its new monthly rankings of Australian internet service providers' (ISPs) download speeds for video streamed from its servers and has found that Telstra is the worst-performing of the six it samples.
Telstra is Australia's dominant carrier and promotes its networks as the nation's finest, but it also owns half of local pay television provider Foxtel. It's interest in making the necessary arrangements to assist an over-the-top player like Netflix is therefore open to question.
Netflix's July ratings suggest Telstra customers achieved an average speed of 2.05 megabits per second when downloading Netflix videos. Top-ranked iiNet still didn't set the world on fire at an average 3.32 Mbps, but the junior telco has made a virtue of Netflix access by declining to count streamed video from the company against its download allowances.
Telstra's slow speeds look even worse for the company when one considers that Dodo/Primus and Exetel have made vastly smaller broadband infrastructure investments than Telstra's own.
Here's the tale of the tape: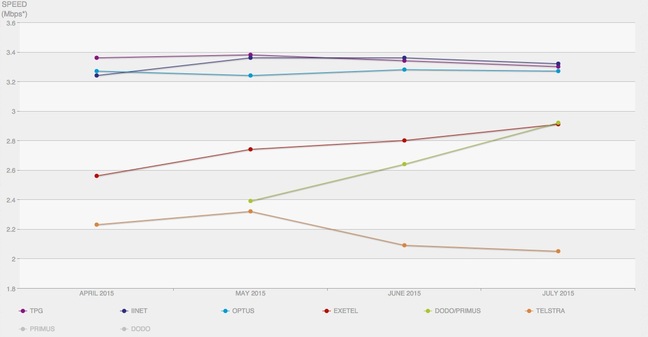 Netflix ISP speed ratings Australia April-July 2015. Click here to embiggen.
When Netflix first published its ratings, Telstra offered six reasons for its slow download speeds, claiming that its results have been dragged down by the many remote areas it serves where it's hard to deliver speedier downloads. Which is fair enough as Netflix offers only the crude metric of an average.
But with Telstra recently announcing it will adopt Roku for a new push into set-top boxes that will offer Netflix access, there's clearly more to come in this story. ®