This article is more than 1 year old
Assange™ to SQUAT in Ecuadorian broom closet for ANOTHER FIVE YEARS (maybe)
Six-fingered WikiLeaker-in-Chief eyes freedom in 2020
Julian Assange can set his alarm clock to wake him up in roughly five years' time, when he will be able to walk out of the Ecuadorian Embassy a free man – well, once he settles the matter of breaching his bail conditions with Scotland Yard, that is.
The reason? As spotted by lawyer David Allen Green, Swedish law of limitation requires the cops to charge a suspect within a certain timeframe.
Authorities in Sweden have been attempting for years to question the Australia-born WikiLeaker-in-Chief over rape and sexual molestation allegations brought against him by two women.
However, Green pointed out that, as of 18 August this year, three of the four potential charges against Assange will have expired.
"This is because of the Swedish law of limitation, which for certain offences means that the suspect has to be charged within five years of the alleged incident," Green said in a blog post.
If Assange – who has long denied any wrongdoing – declines to be interviewed at the Ecuadorian Embassy in Knightsbridge, London, where he has been encamped for more than three years, then certain aspects of Sweden's investigation will be dropped in just seven days from now.
The Swedish Prosecution Authority (SPA) stated:
As long as the prosecutor does not receive permission to interview Assange at the Ecuadorian Embassy, there is nothing else she can do before 13-18 August. An interview is necessary for the investigation.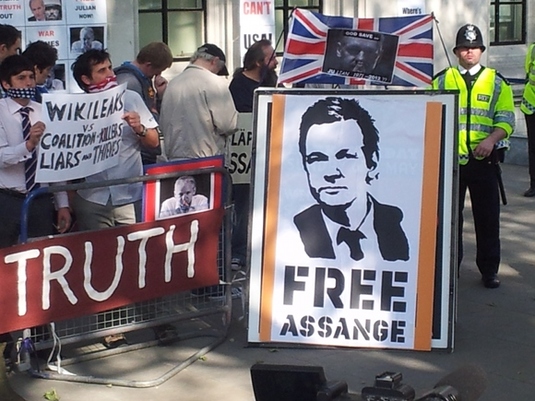 Assange supporters at the Supreme Court in London before his bizarre plea for shelter from Swedish authorities began
The three allegations (two counts of sexual molestation and one of unlawful coercion) that are set to expire come from one of the complainants in the probe.
However, the most serious accusation of rape from the other woman, which was detailed in the European Arrest Warrant issued on 26 November 2010, carries a 10-year limitation period.
Green added that the SPA will be mulling over whether to altogether drop its investigation in light of the limitation on three of the allegations brought against Assange.
He argued that prosecutors would continue to push for an interview with the 44-year-old given the seriousness of the rape allegation.
Meanwhile, the Assange soap opera drags on, even as ratings plummet, but it's anyone's guess what will happen next. ®