Get thee behind me, Satanic mills! Robert Owen's Scottish legacy
Inside the works of Scotland's industrial revolutionary
American dream
That left money for the school, complete with playground (claimed as another world first) and The Institute, where residents could gather two evenings a week to study, listen to public lectures, and learn to dance (there was a lot of dancing).
The schoolroom has been recreated as it was, complete with huge globe and a crocodile (sadly not real, though the school did at one point have such a pet). Children are invited to dress up and see what the world's first primary school was like, though it turns out to be quite similar (only with more dancing).
Attached to the school room is a space dedicated to those who left New Lanark to build the new world in America and elsewhere, though it would probably be more accurate to say it's dedicated to their descendants who've popped back to see the old place. During the summer Scotland throngs to the sound of tourists looking for their roots, and here there are lists of names and a map on which visitors are invited mark their origins.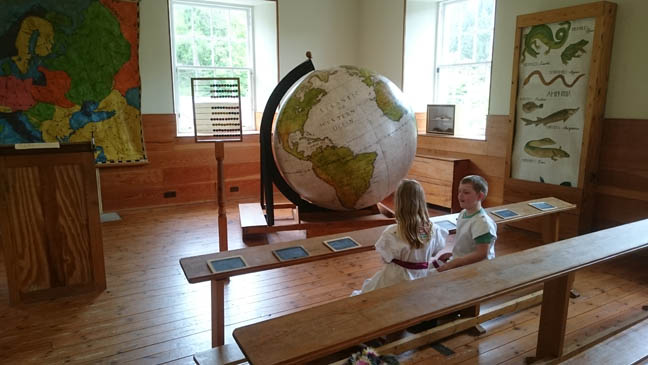 When you've got a big empire you need a really big globe
The migration to America is pertinent, as Owen himself set out for the new world in the hope of building on the experiment of New Lanark. He purchased an existing community site; America was awash with utopian experiments at the time, and renamed it New Harmony.
The idea was that a new town, in a new world free from conservative society, could better achieve a perfect society. Sadly, the intellectuals and philosophers who settled to New Harmony were ill-equipped for self-sufficiency (the site eventually becoming part of the University of Southern Indiana), and Owen returned to England in 1828.
A good deal poorer, but in no way undaunted, he set about pushing employment reform and women's rights, becoming a leading light in the trade union movement and campaigning tirelessly against child labour. His own children stayed in America, three of his sons celebrating a triple wedding in New Harmony in 1837. Robert Dale Owen went in to become a member of the US Congress, and introduced the bill to found the Smithsonian Institution, among other things.
Owen ran New Lanark for 26 years, long enough to convince him that taking better care of workers not only improved productivity, but improved society too. He inspired thousands of people, who trekked from around the world to see the miracle of New Lanark, where employees could be treated decently and would reciprocate by working hard.
One of Owen's many writings, from 1817, expounds on just why workers and their management should strive for common goals.
"Today he labours for one master, tomorrow for a second, then for a third, and a fourth, until all ties between employers and employed are frittered down to the consideration of what immediate gain each can derive from the other."

"The employer regards the employed as mere instruments of gain, while these acquire a gross ferocity of character, which, if legislative measures shall not be judiciously devised to prevent its increase, and ameliorate the condition of this class, will sooner or later plunge the country into a formidable and perhaps inextricable state of danger."
It's a lot to absorb. Fortunately, you can do so over lunch at the Mill Café which offers Victorian afternoon teas, plus you can sample the Mill's own, home-made ice-creams – so good, they've earned a place on Scotland's Ice Cream Trail.
You can walk away with some more enduring goods: a range of three yarns that you can purchase for knitting plus there's the Mill's own range of blankets and scarfs. New Lanark is the first wool production facility in Scotland to achieve the Soil Association's organic approval, while it's also accredited by the British Wool Marketing Board.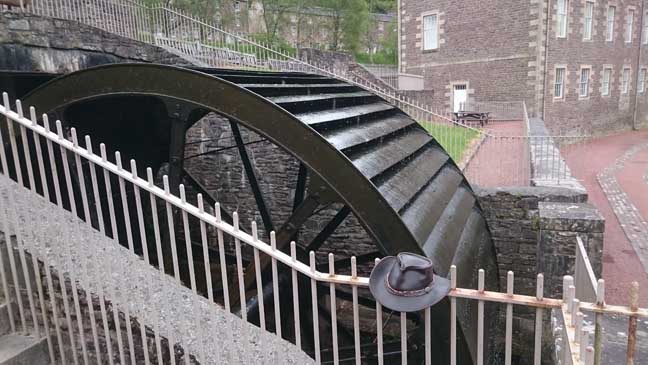 The water still turns two of the wheels (hat shown for scale)
Its just over an hour to New Lanark from either Glasgow of Edinburgh; should you wish to stay locally, facilities scale from small hotels and B&BS (here and here) to chains including Best Western. Touring the area, you can – of course – take in more of the River Clyde.
Visiting New Lanark today won't let you experience the worst of the industrial revolution, but it will give you a taste of what it was like, while the village stands testament to how strong people can reject the received wisdom and make things better for everyone.
If you come away with nothing more than that then a day spent walking around the village, seeing the big machines and learning a little more about Owen, is a day well spent.
GPS
55.662591, -3.780315
Post Code
ML11 9DB; Note, code for sat nav is different: ML11 9BY
Getting there
Car: 25 miles from Glasgow, 35 miles Edinburgh. Rail: Trans from Glasgow Central or Motherwell to Lanark then local bus or taxi. Bus: Service between Buchanan Bus Station, Glasgow, and Lanark – no trains Sunday
Other resources