Poor Imation's revenues continue their never-ending death spiral
Board reckons breaking up is hard to do, but what are the alternatives?
Imation's board may be thinking that breaking up is hard to do. But, with the continuing decline in revenues, the only way to get any value out of the company may be to sell off the promising parts and forget the rest.
It carried on plunging down the revenue slope with a 15.7 per cent annual decline in its second-quarter 2015 revenues to $150.6m. Seasonally, its second quarter is typically lower than its first, and so it was again, with the first quarter revenues being $155.4m.
The revenue falls were across the product board:
Tiered Storage and Security Solutions (TSS) declined 11 per cent

Storage and Security Solutions declined year-on-year by 1.7 per cent, primarily due to negative foreign currency impacts
Commercial Storage Media declined 16.1 per cent due to lower revenue from magnetic tape products

Consumer Storage and Accessories (CSA) declined 19.8 per cent, due to the ongoing decline in sales of optical media products, along with negative foreign currency impacts
Losses totalled $17.4m.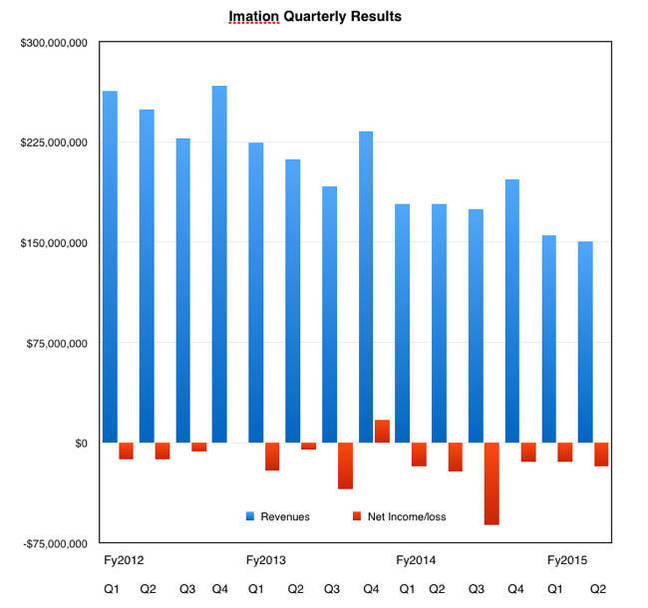 Imation revenues and net income by quarter
Old friends in the excuses department included foreign currency exchange rates negatively impacting revenues by $14.5m (8.1 per cent)
Among the few good things in the numbers was that the Nexsan storage array business grew in double digits, "excluding currency impact, for the second consecutive quarter". If we include foreign currency moves, then it didn't exhibit double digit growth.
CEO Mark Lucas, recently ejected from the board and with a resignation application under way, went through the motions with his canned statement: "Our efforts to transform Imation into a global leader in data storage and security continue to progress."
Lucas continued: "We remain intensely focused on taking the necessary steps to position the enterprise for sustainable growth and have retained a restructuring advisor to optimise our cost structure and assist with performance improvement."
So, after more than six years of losses, his management team has hired a restructuring advisor to look at costs and performance improvements. Immaculate timing, guys.
Lucas finished up by saying: "We are working closely with our Board and our advisers to drive our transformation, and we continue to explore all potential strategic alternatives designed to maximise shareholder value." Well, actually he is not, as he's on the way out.
It appears that Imation is looking for a sale and has two main assets: the Nexsan storage array business, bought for $120m in January 2013, and the IronKey security business. Tape and optical media products are basically in the toilet.
Comment
Fiscal 2014 revenues were $730m, down from $1.7bn in 2009. Somewhere inside Imation is a sustainable business and it looks like the main component of that is Nexsan. This is a traditional networked array business selling into a market that has started declining under assault from all-flash and hybrid arrays with newer software, the public cloud and hyper-converged systems. That's not the easiest sell you can think of.
How much is it worth?
This quarter CSA brought in 51 per cent ($76.3m) of the revenue – this has been declining for years and will likely continue to do so. It brings in cash, but is going nowhere. TSS brought in 49 per cent ($74.3m) so say that's worth around $275m per year and is growing somewhat.
Overall, we have an unprofitable business heading towards a half billion per year revenue number in 2016 with no substantial growth prospects for either of its two businesses. Devising a believable overall valuation will be a nightmare.
Our bet is that the board will split the business into bits and sell them separately, judging that Imation has no future in its current form. On some harsh valuations, it'll be very lucky to get $500m. ®