The BBC is pulling its annual trick of promising skygazers a "dazzling display" of Perseid meteors this week, as the Earth passes through the trail of debris left by Comet Swift-Tuttle.
Peak meteor activity will be tomorrow night (Wednesday August 12) from around 2300 UK time, and enthusiasts can expect "at least one every few minutes". Alan MacRobert, senior ed at Sky & Telescope told Auntie: "The nearly moonless sky this year means the viewing will be excellent."
Back in 2009, Reg reader Bill Pinnell caught some open sky and got this nice snap of a small piece of Swift-Tuttle going out in a blaze of glory: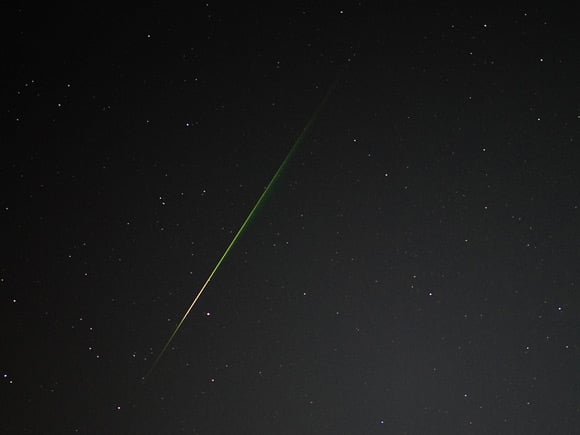 Perseid meteor captured by Bill Pinnell back in 2009.
The Perseids are so named because they appear to originate from a "radiant" in the constellation Perseus. Whether Perseus itself will be visible tomorrow night depends of course on the weather gods, who frequently thwart mankind's dreams of endazzlement. ®
Bootnote
If the vast majesty of the universe is indeed obscured by cloud and driving rain, we recommend you take shelter with The Bumper Book of Astronomical FLOPS, part of our popular 2013 gift range: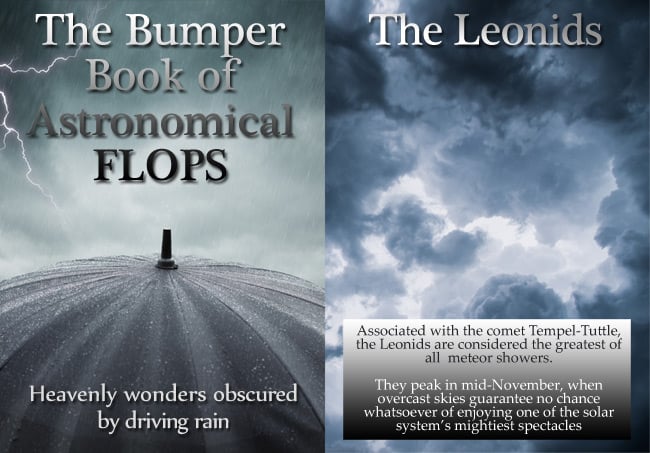 The blurb reads:
A sumptuously-hardbound coffee table book of 230 full-colour plates celebrating the very best of skygazing disappointments. From crap comets to fog-hidden planetary alignments, this unspectacular guide allows the keen astronomer to fully experience traditional views of heavenly events without the bother of a fruitless trip outside the front door.

Boasting magnificent images of no less than 96 different kinds of rain and snow, plus the 31 distinct cloud formations which can kill a solar eclipse.
®