The top dog in the flash industry has just barked out loud and strong; emphasising its 3D flash process lead, Samsung is mass-producing 48-layer, 256Gbit 3D NAND chips, essentially tech SanDisk/Toshiba is hopeful of shipping next year.
Sammy is currently shipping 32-layer 3D V-NAND chips which Dell is using in its Storage Centre arrays. These are 128Gbit chips in 3-bits/cell (TLC) format.
By adding another 16 layers, and no doubt with a lithography shrink, Sammy is doubling capacity to 256Gbits of TLC flash. That 256Gbits translates to a 32GB chip.
It will be used to double the capacity of Sammy's existing SSD products. So the PM1633 SSD used by Dell, which has a 480GB-3.84TB range, will be able to go up to 7.68TB, and Dell will be able to double the flash capacity of its SC-series arrays.
This will make them more responsive than competing arrays with less flash. For example, the SC4020, with 90TB in a 2U rack shelf, which was announced in July, will be able to jump up to 180TB in 2U just as soon as Dell qualifies Sammy's new flash gear.
The SM1715 NVME PCIe flash card from Sammy will be able to jump from 3.2TB to 6.4TB, greatly benefiting server performance.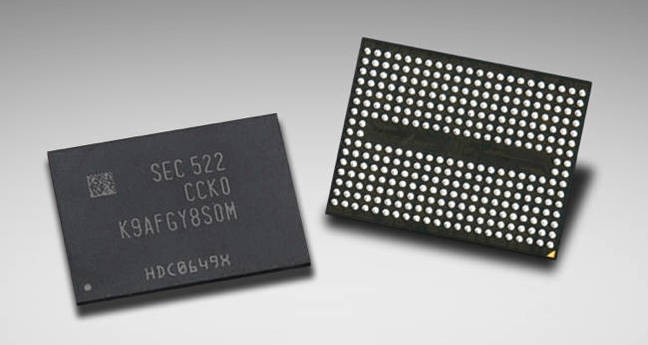 Samsung 48-layer, TLC, 256Gb, V0-NAND chip
Here's the gee-whiz bit: the 48-layer chips use 3D Charge Trap Flash in a structure with 1.8 billion channel holes through the 48 layers, with a total of 85.3 billion cells. Give them 3 bits each and, Sammy said, we have 256 billion data bits.
This 48-layer V-NAND uses 30 per cent less power than the 32-layer predecessor, confirming a lithography shrink is involved (to our way of thinking). Its production process is 40 per cent better than the 128Gbit chip's process, so good news for production costs.
Sammy intends to bring out 2TB-plus SSDs for consumer use (think 4TB versions of 850 SSD) with these chips, as well as growing its high-density SSD sales for the enterprise and data centre storage markets with PCIe NVMe and SAS interfaces.
The world of IO-bound, waiting-for-data, applications is facing a radical speed-up. ®
Similar topics