Mozilla flings glove at Microsoft's feet: Firefox 40 will PWN Edge
This week's edition tightens screw on dodgy add-ons – and Windows 10
---
Mozilla has released Firefox 40, featuring a new look for Windows 10, better protection against uncertified add-ons, and an attempt to resist Microsoft's effort to make Edge the default browser.
The new Windows release has bigger, bolder toolbar icons, more in line with the Windows 10 look and feel. Mozilla has also added security features, based on Google's safe browsing service.
Pages known to contain what Google considers to be deceptive software are flagged with a warning. This joins a feature included in Firefox 39 which checks downloads against the Google service.
These features are on by default, so if you would rather not inform Google of your browsing and download activity, you should disable them.
Another security effort concerns add-ons. Some Firefox add-ons change homepage and search settings, or even inject malicious scripts into web pages.
"We're responsible for our add-ons ecosystem and we can't sit idle as our users suffer due to bad add-ons," said Mozilla's Jorge Villalobos. The solution is that all add-ons will have to conform to guidelines and be signed with a security certificate. This is being rolled out gradually.
In Firefox 40, unsigned add-ons raise a warning prompt. In Firefox 41, there will be an option to disable unsigned add-ons, while Firefox 42 will not allow unsigned extensions to run, with no override.
There is also the question of default settings in Windows 10. Users who upgrade to Windows 10 and click through all the prompts may find their default browser set to Edge. In Windows 10, it is no longer possible for applications to change defaults on behalf of the user; this can only be done through Windows settings.
The reasons for this are similar to those described by Mozilla for add-ons that change search settings: it protects the user from having settings changed automatically. Nevertheless, this provoked a rant from Mozilla's Chris Beard, who called it an "aggressive move to override user choice."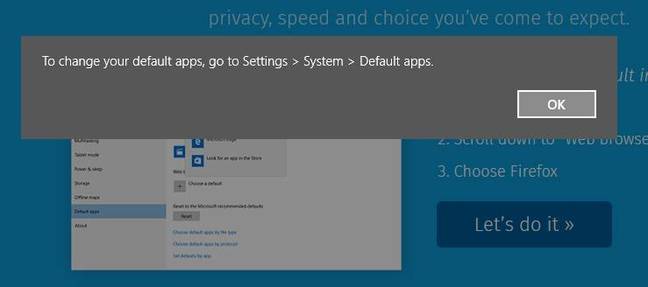 "Let's Do It" … but it doesn't
In response, Firefox 40 greets Windows 10 users with a welcome page that lists three simple steps to change your default browser. The snag here is that they do not work, on some systems at least. We simply got a dialogue box inviting us to go to Settings – System – Default apps.
By contrast, if you choose the "Use Firefox as my default browser" option when starting the browser, this does open the correct Windows settings dialogue box, though you still have to scroll through to find the web browser setting.
The release notes also list smoother animation and scrolling, better optimization for JPEG images, tweaks to developer tools and some other minor changes. ®