This article is more than 1 year old
Fresh flashery from the NANDsters
Flashing their goods at the Flash Memory Summit crowd
The Flash Memory Summit has seen a fresh crop of SSDs and PCIe flash cards appear from NAND fans BiTMICRO, Seagate and Toshiba as they try to wow delegates and get sales momentum started.
Seagate Nytro flash cards
Seagate, flush and fresh with its strategic alliance with Micron over flash, has announced three new Nytro (acquired LSI flash card technology) products; the XF1440 2.5-inch NVMe SSD, the XM1440 M.2 NVMe SSD, and the XP6550 flash accelerator card. They all use eMLC flash.
Both the 1440 product ranges are sub-divided into capacity-optimised and endurance-optimised sets.
We have speeds and feeds for the XF1140. The endurance sub set has 400, 800 and 1,600GB capacities. They do 200,000/34,000 random read/write 4K IOPS, and have 2.7GB/sec sequential read and 1.2GB/sec sequential write bandwidth. These products do three drive writes per day (DWPD) for a warranted 5 years.
The capacity sub set's capacity points are 480GB, 960GB and 1,800GB and they are warranted at 0.3 DWPD for 5 years. Their performance is 200,000 random read 4K IOPS and 3,000/7,000/6,000 random write 4K IOPS for the 1,800GB, 960GB and 480GB capacity products.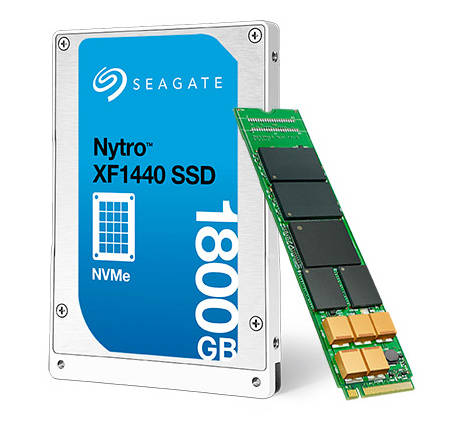 Seagate Nytro XF1440 and XM1440 SSDs
The XM1440 endurance models have 400GB and 800GB capacities, with support for 3 DWPD, while the capacity-optimised XM1440s' capacities are 480GB and 960GB with 0.3 DWPD for 5 years. Seagate has not provided any performance numbers for these products.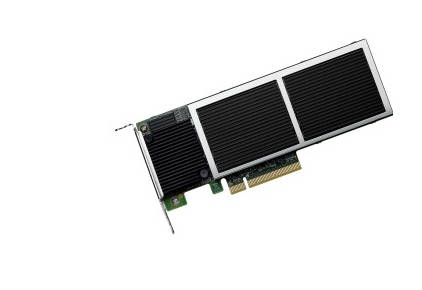 Seagate XP6550
It has provided them for the XP6550, which comes in 1.5TB and 4TB versions, backed up by super-capacitors. The 1.5TB product does 300,000/100,000 random read/write 4K IOPS with the 4TB one running up to 275,000/75,000 IIPS. Sequential read bandwidth is 4GB/sec for both products, with the write bandwidth being 2.2GB/sec for the 4TB model and 1.5GB/sec for the 1.5TB sibling.
Seagate says the XP1550 is warranted for 5 years or the end of the NAND's life, without telling us when that will be on the datasheet; pretty unhelpful. There is no DWPD number provided for the XP1550.
Tosh triplets
Not content with introducing one new PCIe flash product, Tosh is giving birth to PCIe flash triplets. The thrilling threesome use Tosh's own MLC flash, 19nm possibly, 16nm maybe, and have NVMe drivers. We have:
XG3 SSD or high-performance notebooks and PCs
BGI SSD for thin notebooks and tablets with up to 256GB capacity
PX04P SSDs for servers and stoprage appliances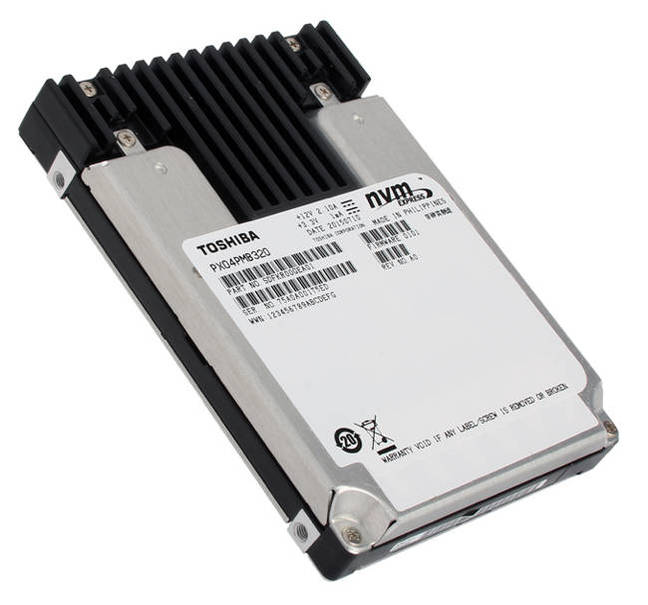 Toshiba PX04P SSD
There is some performance data available for the PX04P, which comes in 800GB, 1.6TB and 3.2TB capacities; 660,000/185,000 random read 4K IOPS, 3.1GiB*/sec and 2.5GiB*/sec for sequential read/write bandwidth. The PX04P can sustain 10 DWPD for a warranted 5 years.
We have no performance or much capacity data for the XG3 and BG1 products, Toshiba not having its datasheet act together. We do know that both have Trusted Commuting Group Pyrite support and lower power state modes.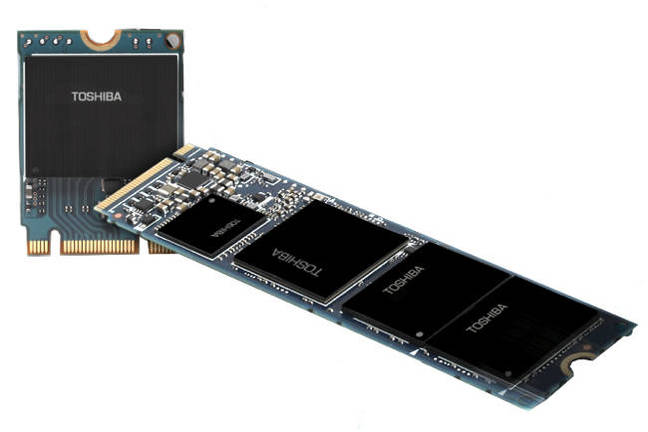 Tosh XG3 and BG1 PCIe SSDs; the small one is the BG1
BiTMICRO
Known for a military product focus, BiTMICRO is launching MAXio Z-Series flash PCIe cards for enterprises. They support up to 8.8TB of capacity, in a PCIe edge card format, and use two BiTMICRO-developed ASICS to boost performance. Flash Translation Layer (FTL) processing is offloaded from the host server to the SSD.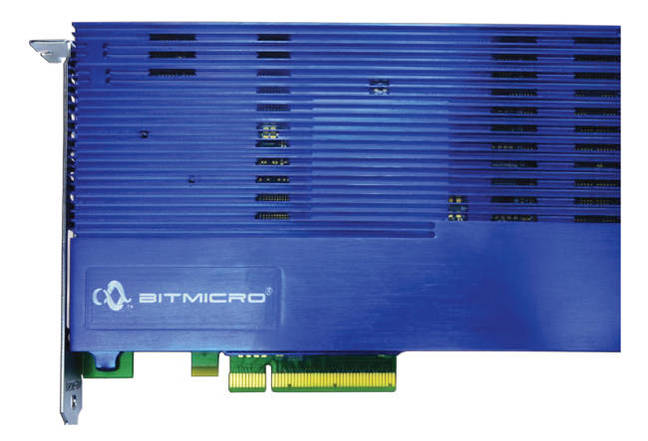 BiTMICRO MAXio Z-Series flash PCIe card
A previous MAXio E-Series PCIE SSD has a 3.3TB capacity limit and a PCIe gen 2 x8 interface, performing at 240,000/100,000 random read/write 4K IOPS at 50/30 uSec latency. The Z-Series, with its PCI gen 3 x8 interface, does up to 430,000/150,000 random read/write 4K IOPS at 50/30 uSec latency; significantly faster and more than double the capacity.
BiTMICRO has also announced its iSCSI Model N1A6 all flash array. This is a 1U box with 20 x 800GB SSDs; 16TB of raw capacity and more than 11TB usable. It does 360,000 sustained random 4K write IOPS and has 2 x 10Gbit ports.

BiTMICRO N1A6 all-flash iSCSI array
It also has an N3P4 model in a 3U box with up to 8 MAXio PCIe flash cards, 70TB+ raw capacity using MAXio Z-Series cards, a claimed 1420TB usable capacity after dedupe (10:1 ratio), sparing, RAID and provisioning.
An E-Series version offers 26TB+ raw capacity and almost 157TB usable capacity with 8 E-Series PCIe SSDs inside it.
PMC
Availability and stuff
After Samsung's 48-layer, 3D NAND news, Micron/Intel's 3D Point non-volatile memory, SanDisk's 48-layer 3D NAND production piloting, and HGST's PCM demo, these three sets of SSD announcements are middle-of-the-road normal. BiTMICRO's has technology interest with the FTL off-loading, but the others are straightforward evolutionary advances on existing MLC flash product. Worthy, of course, that goes without saying, but not sexy.
BiTMICRO MAXio Z-Series PCIe SSDs are available now with pricing starting at less than $2/GB.
Seagate will demo the Nytro XF1440 SSD in booth #505 at the Flash Memory Summit 2015 conference as well as in the NVMe booth, #700-702. The XP6500 Flash Accelerator Card is currently available. The XF1440 will be released at the end of October and the XM1440 will be available in early 2016.
Samples of Toshiba's new NVMe, PCIe SSDs will be available in Q4 2015. See Tosh's trio of PCIe SSDs at its booth (#407) at the Flash Memory Summit. ®
* A GiB is a gigabyte with 1,073,741,824 bytes. A GB is a gigabyte with 1,000,000,000 bytes.