This article is more than 1 year old
SanDisk gets all Tardis-like and shrinks cells to increase capacity
Hyperscaler's SSD also gets performance boost
SanDisk has revved its CloudSpeed Ultra SSD, doubling capacity to 1.6TB by using smaller sized cells.
Gen 1 Ultras used 19nm MLC NAND in 400GB and 800GB capacity points. The Gen 2 model uses 15nm flash and have 400GB, 800GB and 1.6TB capacities.
Generally, they are faster than the Gen 1 products, although their endurance has fallen to 1.8 drive writes per day (DWPD) for five years from the Gen 1's 3 DWPD rating.
The Gen 2 products do up to 76,000/32,000 random read/write 4K IOPS with the Gen 1s doing 80,000/25,000. What you lose on the reads you more than gain on the writes.
Sequential read/write bandwidth is up to 530/460 MB/sec, compared with 450/400MB/sec with the Gen 1 product. The average latency is 56μs with read latency being 80μs, and they retain the Gen 1 6Gbit/s SATA interface.
SanDisk is selling these flash slabs to hyperscale cloud service providers (CSPs) and as a cost-efficient alternative to disk drives, saying they provide more predictable performance.
It also says they are suited for software-defined storage (SDS) vendor environments. This doesn't enable us to differentiate between a hyperscale Nexenta environment, one using a few servers with DataCore software, or proprietary storage arrays described as software-defined by their vendors because they, well, use software.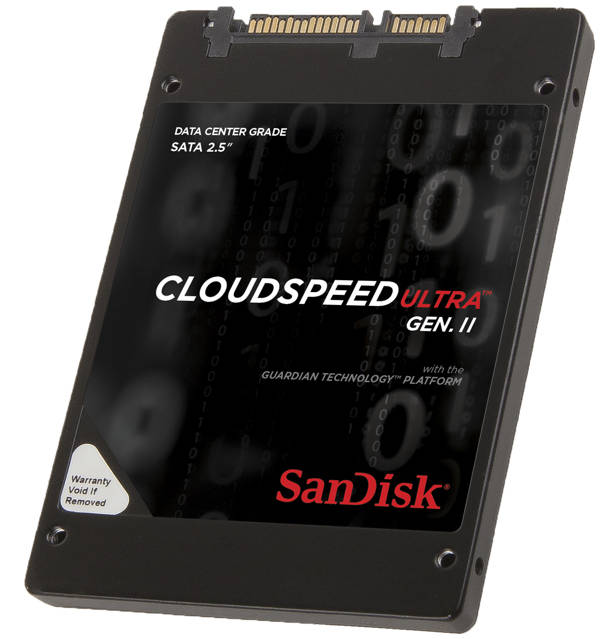 SanDisk CloudSpeed Ultra Gen II SSD
SanDisk said the Gen 2 Ultras are priced at a little over $0.04 per IOPS, not telling us whether this is read or write IOPS; that makes a considerable difference.
"With CloudSpeed Ultra Gen. II, CSP and SDS companies can provide an exceptional customer experience, while reducing administrative overhead along with the number of servers and software licenses needed to support transaction and analytical databases," said SanDisk's John Scaramuzzo, Enterprise Storage Solutions, SVP and GM.
If that floats your data centre boat, then, well, cool.
Reading between the lines here, the CloudSpeed product will probably be priced not to have a leading edge low $/GB cost, but a better total cost of ownership and $/IOPS than disk drive alternatives for the same level of IOPS performance. Not cheap, in other words.
The use of 15nm NAND is probably the limit in terms of lithography shrinking.
Any future Gen 3 CloudSpeed Ultra will almost inevitably use 3D NAND and quite possibly get performance boosts as well as capacity rises from that multi-layered NAND using larger lithography.
CloudSpeed Ultra Gen. II SSD will be available for select CSP and SDS customers in August and on a staggered channel release through the Enterprise Channel Partner program.
SanDisk is not saying what the "select" word means. Check 'em out at SanDisk's booth #207 at the Flash Memory Summit, 12-13 August, if you're in Santa Clara. ®