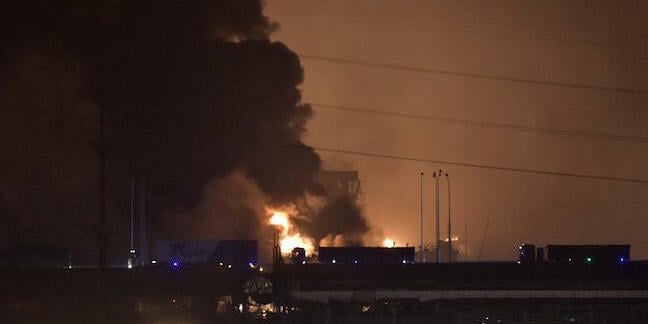 Vid China is today trying to determine the cause of extensive explosions in the port city of Tianjin that have left at least 44 dead and hundreds injured.
State news organ Xinhua reports that a warehouse operated by a company that specialises in dangerous goods, such as chemicals and explosives, blew up on Wednesday night. The city lies in the north of the country.
At least thirty people are reportedly in a critical condition. The biblical blasts produced a towering fireball hundreds of feet tall, and sent out a shockwave so powerful that windows were blown out of some buildings up to kilometres from the epicentre.
The resulting inferno was spotted from space by satellites. Seismometers in Beijing registered the string of blasts as a magnitude 2 to 3 earthquake.
Even China's National Supercomputer Centre in Tianjin, home to the world's former number-one fastest supercomputer, the 186,368-core Tianhe-1, felt the impact of the almighty explosion.
Xinhua reports that "the office building of Chinese supercomputer Tianhe-1, one of the world's fastest supercomputers, suffered damage."
Sources at Tianhe-1 told Xinhua the computer is not damaged, but they have shut down some of its operations as a precaution. Today, the 2.56PFLOPS Linux-powered machine is the world's 24th most-powerful supercomputer, and spends its cycles running solar power studies and performing other simulations.
Only 2km away, supercomputer Tianhe-1 barely escapes #Tianjin blast, now manually shut down due to safety concern pic.twitter.com/wH0C2dssoI

— China Xinhua News (@XHNews) August 13, 2015
Album: Death toll reach 44 in #Tianjin warehouse #explosion, 12 firefighters are among the dead pic.twitter.com/c6fPlTVN9o

— China Xinhua News (@XHNews) August 13, 2015
Efforts to search the premises and treat the injured are a priority, but Chinese authorities are also trying to determine the cause of the explosions. Xinhua noted that executives of the company whose warehouses went up "have been detained." ®
Sponsored: Webcast: Ransomware has gone nuclear