Decades of disk domination are coming to a close: Wikibon sees flash replacing disk entirely for primary data storage enterprise and hyper-scale cloud data centres over the next ten years.
Disk will still be used as the cheapest and fastest – for the price – bulk-capacity media for archival and other low-access rate data.
The reason for flash taking over from disk is that its cost is coming down and it is just so much faster. No-one wants to be held up by disk latency, and if you can have a 100x or more speed improvement at the same cost, with no initial change to applications, then it would be ridiculous not to shift from rotating rust to faster flash.
Wikibon thinks concerns about flash foundry output limitations for enterprise/hyper-scale flash use are overblown. Its Enterprise Flash vs HDD Projections 2012-2026 report says: "Wikibon analysis shows there is sufficient NAND flash manufacturing capacity to meet enterprise storage demand."
Analyst David Floyer has looked at the projected per-TB (TCO-type) costs for flash and disk drives, starting from a 2012 base and looking out to 2026. He says: "The projections show that the price umbrella of 10 times or greater over the storage media costs that protects the incumbent vendors is under severe pressure."
Here's his chart;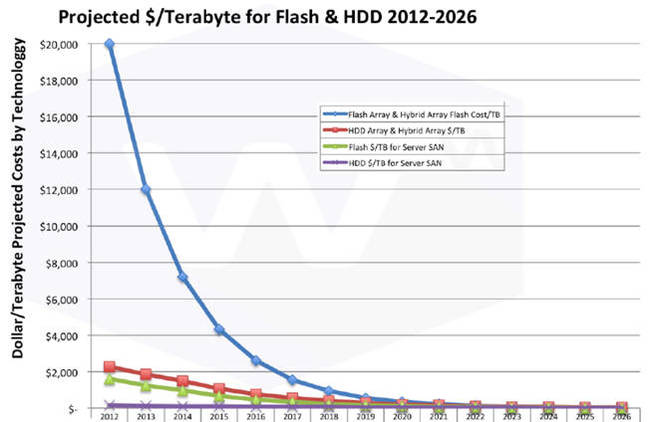 Click chart for bigger version
His analysis is tied in with Server SANs becoming more popular, which is why that category has its own line on the graph. He is also relying on 3D NAND to lower flash costs, saying: "SanDisk has joined Samsung, Intel and Micron in bringing 3D NAND flash into production. The prospect is 10 terabyte thumb drives!"
Floyer projects the total enterprise flash and HDD split changes over the period in terms of annual revenues: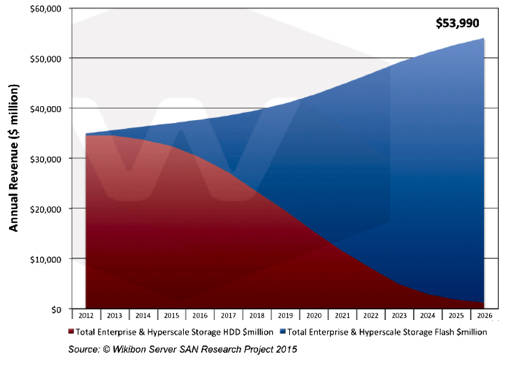 His report states: "The rapidly lowering cost and higher performance of flash will result in a rapid adoption of flash to replace magnetic drives. Flash together with Systems of Intelligence will enable the integration of Big Data analysis into operational systems, and automate many decisions."
Like all Wikibon reports there is an action item, and it starts: "CIO and senior storage executives should be planning to move from HDDs to NAND flash storage over the next few years, and plan completely different organisational and operational environments."
There is much more detail in the report concerning, for example, flash take-up by server SANs and traditional arrays, by hyper-scale data centres versus enterprise ones, and more.
Contact Wikibon to get a copy of its Enterprise Flash vs HDD Projections 2012-2026 report. ®