This article is more than 1 year old
Gartner square-slicers name Cisco and Nutanix integrated boxen bosses
The Borg's got fingers in so many integration pies it's frightening
Gartner this week popped out its new Magic Quadrant for Integrated Systems and the news is good for Nutanix, Cisco and HP.
Gartner's square-slicers now consider three classes of integrated rigs, namely:
Integrated stack system (ISS) — Server, storage and network hardware integrated with application software to provide appliance or appliancelike functionality. Think Oracle's Exadata Database Machine
Integrated infrastructure system (IIS) — Server, storage and network hardware integrated to provide shared compute infrastructure. Examples include VCE Vblock, HP ConvergedSystem and Lenovo Converged System (formerly PureFlex).
Hyperconverged integrated system (HCIS) — Tightly coupled compute, network and storage hardware that dispenses with the need for a regular storage area network (SAN). Storage management functions. Think Nutanix, Pivot3, Scale Computing and SimpliVity
Rigs of those three sorts collectively hauled US$8.7 billion through the door in 2014, up 30 per cent compared to 2013. 2014 sales represented "approximately 10% of all server, external controller-based storage and data center networking spend", so this is a decent market.
The big movers in this year's quadrant are Cisco, Nutanix and HP.
Cisco's moved because last year Gartner considered it only in the context of its relationship with NetApp and its FlexPods. This year, the firm notes that Cisco has retained that relationship but can also point to integrated systems partnerships with IBM, VCE, HDS, Nimble Storage, SimpliVity, StorMagic, ScaleIO and Maxta. While that's a plus, the firm worries that Cisco "has yet to demonstrate that it can extend its success to modular, scaleout systems that integrate UCS and direct-attached storage from center to edge, and deliver a software-de€ned storage (SDS) offering that can compete with many recent entrants in the HCIS market."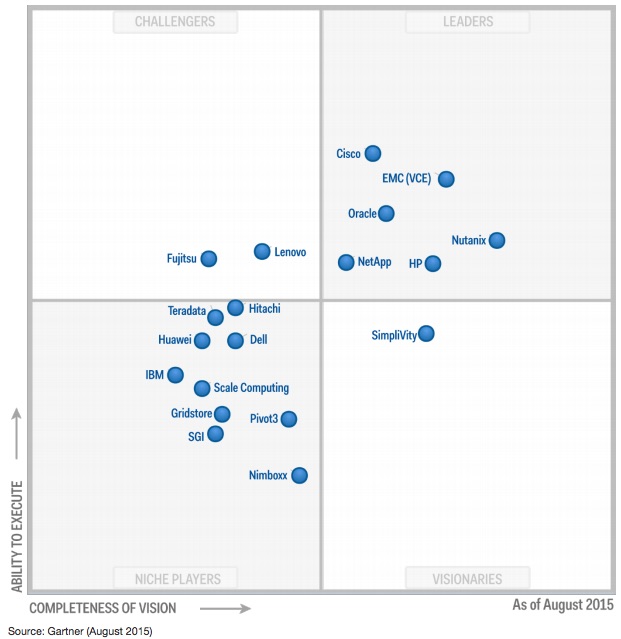 Gartner's August 2015 Magic Quadrant for Integrated Systems
Nutanix is ranked best for completeness of vision and rated "a complete infrastructure solutions company, providing its customers 'flexibility in their choice of hypervisors and cloud usage." On the downside, Gartner feels the company is "no longer small enough for the established system vendors to ignore or dismiss, and will therefore confront tougher competition going forward."
The observation about Nutanix's growing influence is sound: the company yesterday announced a relationship with Citrix that will see the software company certify its XenApp, XenDesktop, NetScaler and ShareFile products to run on the infrastructure company's new Acropolis hypervisor. Citrix does the same for vSphere and Hyper-V, but also makes much of how well those products work when running on its own Xen Server. For Nutanix to score a gig with Acropolis signifies it's making waves.
But back to the quadrant and the other big mover, HP, which wins praise for having " expanded its already comprehensive portfolio of ConvergedSystem model categories to address new workload performance and capacity demands."
The company "... has set about overcoming suboptimal efficiencies in sales and marketing, while enhancing the ease and functional use of its HP OneView infrastructure management through an automation hub."
EMC is rated "a formidable source of integrated systems" thanks to its 90 per cent ownership of VCE. But Gartner also worries the company "... may struggle with how to position its various platforms based on use cases, applications and scale, including recognition that new SAN-less racks and VSPEX appliances pose potential cannibalization of SAN-based block solutions."
While we're on cannibalization, the magic quadrant describes the market for VMware's EVO: RAIL hyperconverged template as "nascent". That doesn't stop the authors from praising NetApp for having adopted the platform, which they feel gives the company a great way to sell into large enterprises' remote offices so they can "share the same technology between their data centers and remote offices with all its attendant bene€fits." FlexPods remain the main game and Gartner feels the product's wide acceptance and diverse channel all bode well.
Oracle's place in the leaders' box because it has a broad range and is also finding success as its customers use its kit for multiple workloads. But Gartner thinks Oracle's preference for Oracle software on Oracle hardware is a problem because the analyst's clients demonstrate "a continued fear of vendor lock-in of integrated software stacks, tied to hardware asset life cycles and varieties of licensing models".