Pic Google's Chromebooks are just over four year old and, while the hardware has done well in education, businesses and normal people haven't been too keen.
In response, the ad giant has teamed up with Dell to fix this with a line of Chromebooks for business. Rajen Sheth, director of product management for Android and Chrome for Business and Education, said that with businesses updating from Windows XP, there's an opportunity for Google to pick up some market share.
"This is a long term move from legacy systems," Kirk Schell, Dell's GM for commercial client solutions, told a press conference in San Francisco on Thursday. "It's going to be a long process, which is why you'll see Google apps running alongside legacy apps via virtualization."
The Dell Chromebook 13 (for the size, not for luck) is a carbon fiber and magalloy machine that has the look of a premium laptop and weighs in at a reasonably portable 3.23lb, with the touchscreen adding a third of a pound to that. The device has seven configurations, ranging between $399 and $899 in price, and runs Intel Celeron, Core i3 and Core i5 processors, 2, 4 or 8GB of RAM, and either a 16 or 32GB SSD.
The laptops have two USB ports (one version 2.0 and one 3.0), an HDMI socket, and a microSD card for removable storage. It runs 801.11AC Wi-Fi, Bluetooth, and has a variety of add-on dongles for Ethernet and serial ports.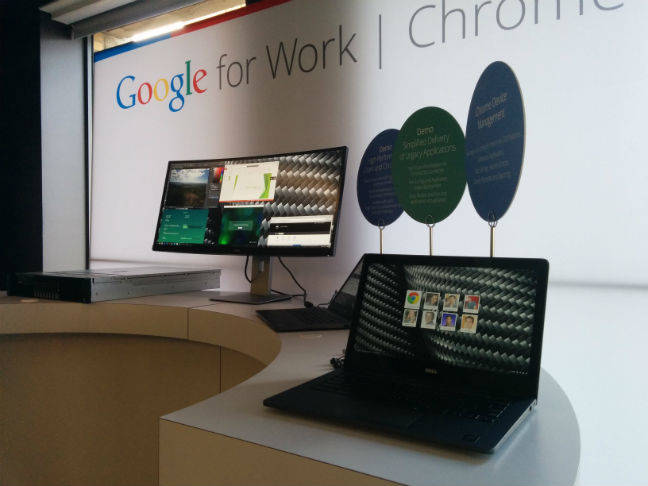 Dell's Chromebook office example
The battery life is a claimed 12 hours minimum, and that's on the base-spec model, Schell said. The devices go on sale on September 17 from Dell and Google's online shop.
Softly, softly, catchy, company
The hardware is all well and good, but in order to convince businesses to dump Windows machines and go to ChromeOS, Google and Dell have focused on software.
The Chromebook 13s have been set up to run Windows and legacy apps via VMWare, Dell vWorkspace, or Citrix's Chrome receiver. For storage, considering the piddling size of the hard disk, there's Google Drive, of course, but also support for Box, Dropbox, or OneDrive.
Google and Dell are also selling this on the basis of easy IT management. A central console allows administrators to control the rollout of operating system updates, security protocols, passwords, and user interface changes on a company-wide, workgroup, or individual basis.
The simplified IT management structure of the ChromeOS is how Google sold these systems from the beginning, and while it isn't perfect, it's still a hell of a lot easier (and less expensive) to manage a Chromebook fleet rather than a swathe of Windows beige boxes and laptops.
One of the traditional weaknesses of Chromebooks is their distressing tendency to become mostly useless when out of range of an internet connection. Sheth said that this too had been addressed by the latest builds of the ChromeOS.
"We're seeing a good amount of sophistication in offline use of web apps," he explained. "Google apps are all available offline by default on these devices, and we're seeing many other web apps working on that too. Also we have android apps now being able to be ported to Chromebooks, and a lot of those are designed to be inherently offline."
El Reg will be getting one of the new systems in for review. The new laptop looks all right, with a few caveats.
Certainly, it looks good enough to take into a pitch meeting and the connectivity is fine. The keyboard is frankly a bit small compared to something like the higher-end Pixel model, but it's still usable.
It remains to be seen how companies are going to find the software side of things. No doubt many companies are sick to the back teeth of Windows, but moving across to Google is a serious shift that some may balk at. ®