Pure Storage, funded to the tune of $470 million and valued at around $3 billion, has filed for an IPO.
The all-flash array biz was founded in 2009 and has taken in funding and grown fast every year. It's currently being ranked as the second highest player in the all-flash array market behind EMC, which Pure sees as its main competitor.
It launched its FlashArray product in May 2012, and has now gone past the 1,100 customer count. Pure states that it intends: "to continue focusing on revenue growth and increasing our market penetration and international presence at the expense of near-term profitability by investing heavily in our business." We shouldn't look for profitability in the next several quarters.
Pure's S1 filing to US financial watchdog the SEC confirms the upstart's plans for an IPO. The document does not reveal the number of shares to be offered, their price, or the likely net proceeds.
Pure states: "We intend to use the net proceeds from this offering primarily for general corporate purposes, including expansion of our product development and sales and marketing organizations. We may also use a portion of the net proceeds from this offering for acquisitions of, or investments in, technologies, solutions or businesses that complement our business."
The annual revenue and net income numbers from the S1 are these:

Year-over-year revenue growth of 603 per cent and 308 per cent for our two most recent fiscal years
Charting them: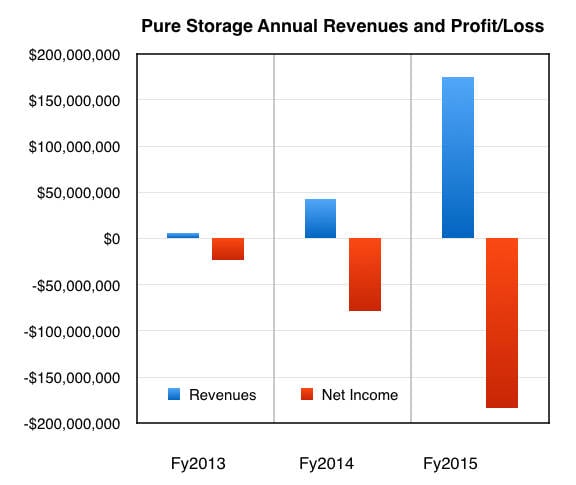 We only have 5 quarters' worth of revenues and net income. Charting them gives some indication of the trend: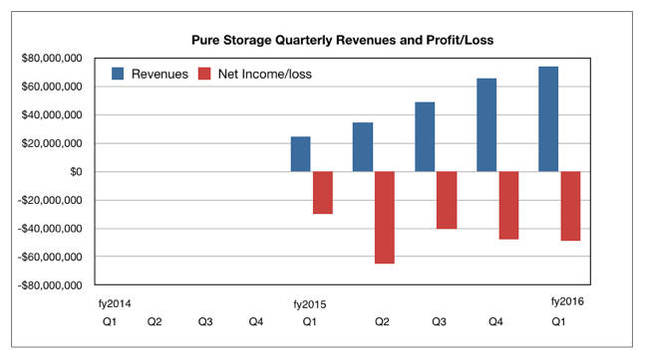 The US accounted for 79 per cent of the revenues in the most recent quarter.
As of April 30, 2015 Pure has $173 million in cash and cash equivalents on its balance sheet.
Pure says it faces "intense competition from a number of established companies that sell competitive storage products. These competitors include Cisco, Dell, EMC, HP, Hitachi Data Systems, IBM, Lenovo and NetApp." Solidfire is not in this list, nor is Kaminario, and Cisco has canned its Invicta all-flash array so it is hors de flash combat for the moment.
SolidFire CEO Dave Wright said of the Pure S1 filing: "Another flash storage company filing its S1 is validation of one of the core disruptive trends of disk to flash. This is great for SolidFire as well. This trend – plus the move from siloed to shared infrastructure that is taking place in tandem – is what SolidFire is built upon. The combination of these two trends has a powerful multiplier effect on the growth opportunity in front of SolidFire as the storage market matures. Few, if any, companies are better positioned at this intersection than SolidFire."
Many other risk factors are noted, including two lawsuits from EMC regarding Pure's hiring of EMC staff and alleging infringement of five EMC patents. Trials have been set for September and March 2016 respectively.
The company is very keen on its culture, noting: "Everyone at Pure is an owner and is empowered like one... We behave more like missionaries than mercenaries – Puritans are striving to make the world of IT better... The quality of our team is by far our most valuable asset."
Pure will be hoping that it can carry out a Nimble Storage-type IPO, meaning successful, and not have a post-IPO debacle such as the one that afflicted poor Violin Memory, from which its shares are still suffering.
Gartner oddity
Gartner published a May 2015 report looking at all-flash array revenues in 2014. It said Pure's 2014 revenue was $276 million. Pure's fiscal year runs from February 1 to January 31; close enough to the calendar year, and Pure's S1 says its revenues in the fiscal year ending January 31, 2015, were $174 million. This is well short of Gartner's $276 million number.
We've asked Gartner and Pure about this discrepancy.
When will the IPO happen? It could be in 2016. Much will depend upon how Pure performs in the next couple of quarters. Its sales reps and channel will have the sales pedal pressed flat to the floor from now on as it races to maintain its momentum and give its investors the golden reward they must be hoping for. ®