Stardock's Start10 brings the familiarity of 7 to Windows 10
Bonus: It hides the Cortana search box
---
Stardock has released Start10, a Start menu alternative which replaces Microsoft's Windows 10 Start menu with one that will make former Windows 7 users feel at home.
This is a product that should not need to exist. Following widespread protest at the full-screen Start in Windows 8, Microsoft pulled back in Windows 10 and reverted to a corner-of-the-desktop affair; but it is still not as good as it should be.
There are several problems with the Windows 10 Start menu, which is really two utilities in one: the optional Tiles panel and the "All apps" scrolling list.
"All apps" flattens the folder hierarchy, so that subfolders are lost. A bug in the initial release means that users with large numbers of shortcuts (over 512 or so) find some are missing.
Integration with Cortana and Windows Search is also problematic, with Windows prone to announcing "We're getting search ready" for extended periods while not finding some applications, and mixing web and local search. Your straightforward requirement to run application X becomes a bunch of unnecessary search results which, in the worst case, do not even include the app you are looking for.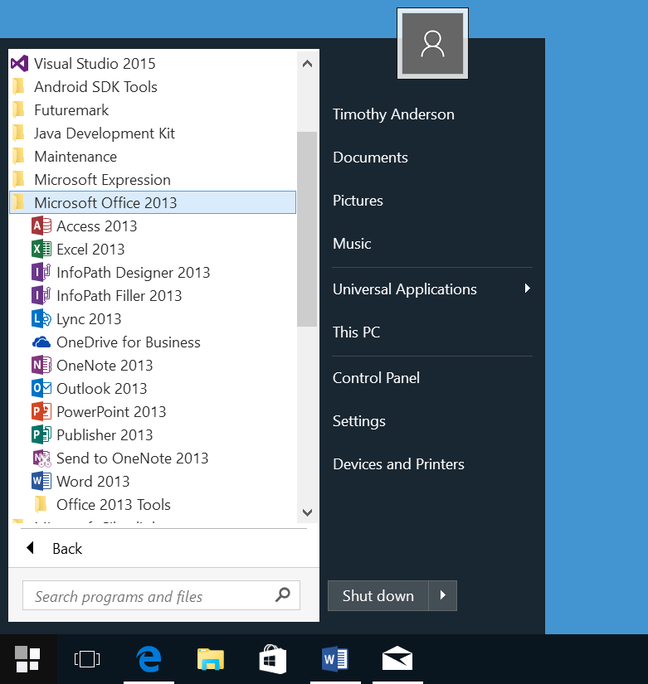 Start10 with its default Windows 7 look
Stardock is filling the gap with its Start10 product, which was released yesterday after a period in beta. By default it looks similar to what is in Windows 7. It is a thoughtful product though, with numerous configuration options.
After setup it prompts to hide the Cortana/Search box which takes up substantial taskbar space; fine if you like what it does, but a nuisance if not. Start10 has its own search box, and you can configure it either for simple Start search, or Windows search results.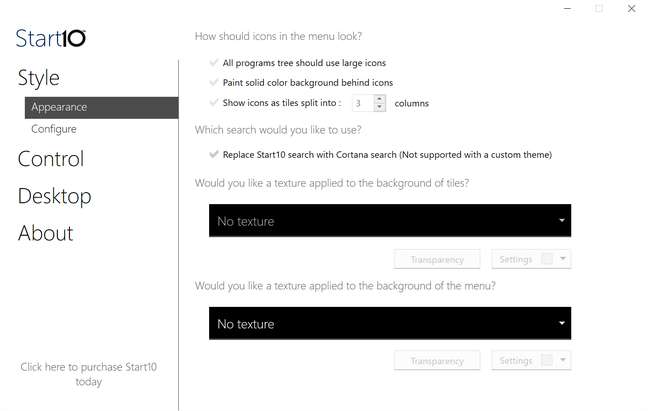 Customization in Start10
Another option is the ability to change the taskbar colour, something which is surprisingly tricky to get right in Windows 10 settings.
You do not need to miss out on the Windows 10 experience; Start10 includes a shortcut to the built-in menu. You can also configure Start10 for a Windows 10 style, in which case it looks very like the original – but then why bother with Start10 at all?.
There is one flaw with Start10. Unless you choose Windows 10 Style, Universal Applications are not included in the main list of programs, but only in a flyout menu. They do show up in search results, though. This runs contrary to Microsoft's effort to make Universal apps more like desktop apps, so you should not need to worry about the difference.
Start10 should not need to exist but it will find plenty of users. It costs a modest $4.95 from their website.®
Bootnote
If you are suffering from the Windows 10 Start menu bug but resist the idea of a third-party replacement, you can use Explorer instead. Make a new shortcut and give it the magic link c:\windows\explorer.exe shell:AppsFolder. It will fill with shortcuts to all applications, desktop and Universal, and does not suffer from the bug.