Viewing options
As if prodded by a sharp stick, the 4K content monster is also beginning to stir. BT's Ultra HD Sports channel is now operational. The telco just about managed to get enough 4K YouView set top boxes into the field to qualify its first live broadcast of the FA Community Shield as a launch.

BT Ultra set top box offers a 4K sports channel
And while still very much in beta, early word is that the transmissions look great. I can't comment, because despite living in a large urban conurbation and subscribing to BT Infinity, my line speed isn't deemed fast enough to support the service.
BT currently considers 44Mbps the going rate for its 4K footie service. There is almost certainly headroom built into this, although the company has declined to tell me just how fast a connection is actually required for the service to function – it's likely to be somewhere south of 30Mbps. By way of comparison, Netflix 4K requires 15.6Mbps. The key difference is that Netflix isn't live and doesn't need to offer 50fps.
Given the UK's current broadband infrastructure, it's difficult to imagine high-frame 4K is actually going to be commercially viable over the Internet. BT will almost certainly drop its crippling speed requirement once the service beds in, but will fibre come anywhere close to being as practical as satellite delivery? I doubt it.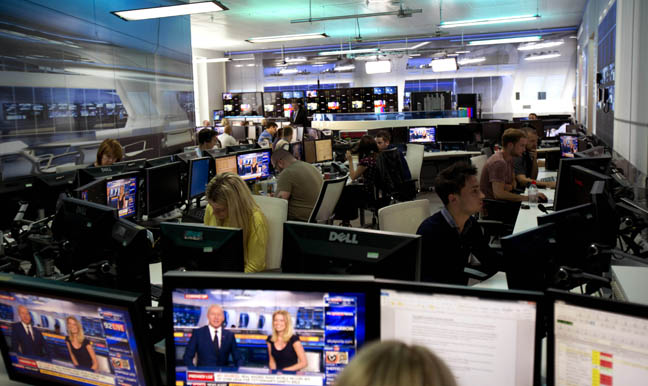 4K you? Sky Sports studio readies itself for Mission Impossible... sort of
Rival Sky continues to play its cards close to its chest, although its next-gen box, widely referenced as SkyQ, formerly Project Ethan (after Ethan Hunt, Mission Impossible?), is now probably only an IBC away. SkyQ is 4K capable and will offer a raft of new network functionality along with a prettier UI. And unlike BT, Sky clearly sees HDR as part of the UHD proposition. Sky Deutschland recently delivered what it describes as a successful first test of Ultra HD HDR acquisition shooting the DFL Supercup.
And if neither services appeal, there's always physical media. Expected to be seen for the first time at IFA, Ultra HD Blu-ray remains on course for a pre-Xmas launch. One way or another, we'll all be much closer to a 4K reality by the end of the year, than we were at the start. ®
Sponsored: Ransomware has gone nuclear