This article is more than 1 year old
DataGravity puts a little weight behind protecting your information
Want to tag your own sensitive info? No problem now
Paula Long-led startup DataGravity has updated its Discovery array with a second generation Discovery Series V2 software.
DataGravity said its arrays integrate the separate functions of data security, search and discovery, and protection into one platform and provide visibility into data as it's created.
The added software features are:
Content and tag alerting – automatic email alerts about sensitive data storage and usage so admins can spot user-access anomalies and governance policy violations
Audit user role-based access – to prevent non-privileged users accessing privileged info
Custom and pre-defined tagging – so admins can tag their own sensitive data
Intelligence profiles – for admins to set up and run compliance policy checks as dictated by their own regulatory and internal governance policy needs
Management Packs for VMware vRealize Operations and Log Insight – plug-ins to reveal insights in consolidated data-centre-wide dashboards to help admins deal with troubleshooting and resolution of data privacy, security and compliance issues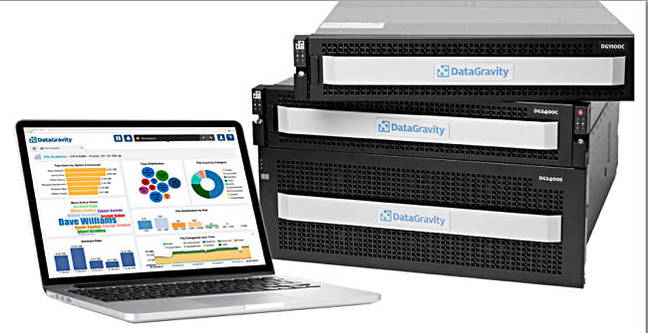 DataGravity arrays and interface
DataGravity is the sole occupant, pretty much, of the networked, sensitive data-protecting, array sector.
There seems no reason at all why it can't produce a software-only product for use by partners shipping their own array hardware, or for use with virtual SAN systems, assuming the right partnership deals could be struck.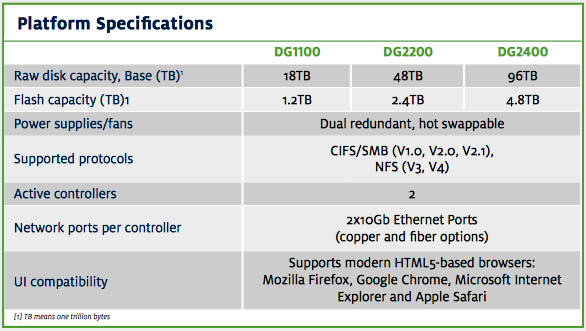 DataGravity array data
The V2 update is available now for the DG1100, DG2200 and DG2400 arrays. Check it out on a datasheet here (pdf). ®