This article is more than 1 year old
Still safe as houses: More CCTV for the masses
More app-equipped cameras for you to scare your pets with, apparently
Swann NVA-460
Swann's NVA–460, available from Maplin in the UK, is the most comprehensive of the systems I tested. It is, essentially, a complete wireless security system, with two night-vision cameras and a digital video recorder.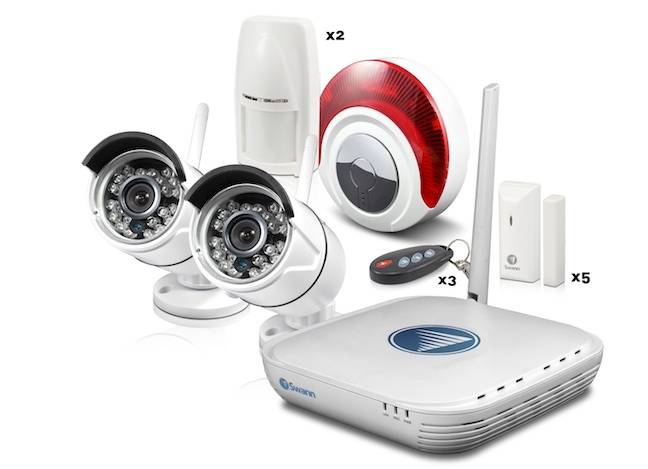 Swann's kit comes with a full set of burglar alarm sensors, as well as cameras
No surprise, then, that it's the most expensive of the solutions on offer. That said, if you were to install a separate intruder alarm alongside one of the other cameras, you would be looking at the same sort of overall cost, and the two wouldn't be integrated. For example, this Yale model can contact you when it goes off – but costs £300.
The kit I tested comprised a digital video recorder and two Wifi cameras. The DVR plugs into your broadband router and the set-up allows the cameras to be connected either to a network of their own, or to your main wireless network: I chose the former. The cameras are detected automatically and linking the DVR to the app is a matter of simply scanning the QR code on its label. You'll need an HDMI or VGA monitor.

You'll need to hook the Swann up to a monitor to configure it
So far, so good. Picture quality is pretty decent – the cameras are 720p – though the display on the TV via HDMI was very odd until the resolution was set correctly. And, frankly, the interface is pretty clunky and lacks polish. There's a USB mouse supplied, but plugging in a keyboard didn't work. A shame, as using the on-screen one is tedious.
The second USB port is used by an aerial for the alarm sensors. The kit contains three key fobs, a siren, two PIRs and five wireless door sensors, each of which can have an additional wired sensor connected to it. All are pre-paired with the DVR. For each sensor, you can specify a camera to record when it's triggered and optionally, to issue an email alert, audible notification and siren.
The sensors, DVR and cameras each have their own A3 sheet of instructions, which don't always present things in a logical way. Useful info, like the way a sensor's number on screen turns red when it's triggered, is tucked away. It wasn't immediately obvious how to work out which PIR, for instance, was the one in the hall.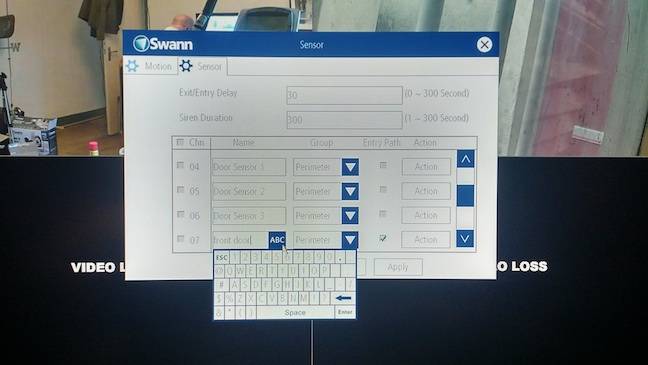 The on-screen interface for Swann's security system is a little clunky (click for full size)
The mobile app allows you to access video from the DVR or to view live streams. Up to sixteen cameras can be displayed at a time, and there's support for PTZ cameras too, though the ones in the kit are simple static night vision models. It's even possible to record directly from the camera stream to your mobile.
The app also provides control of the alarm system, which has Arm, Home (only "perimeter" devices set the alarm off) and Disarm modes, so if you can't find your keyfob, you can control the system from your mobile, and receive push notifications, too. There's no way, however, to set up multiple zones or easily omit one sensor. As with the DVR itself, the interface is rather clunky, especially when it comes to selecting video that you want to watch. Tiny type and tiny controls – at least on my Moto X – make it somewhat fiddly.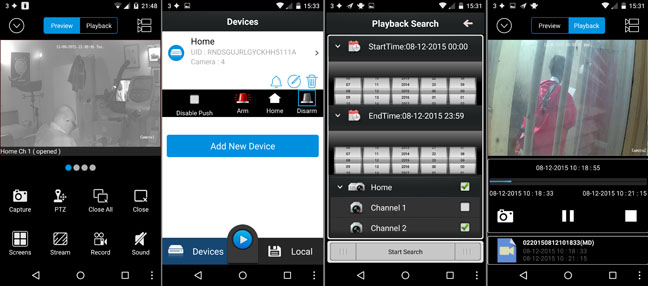 Swann NVA-460 apps: Preview, Devices, Playback Search and Playback showing the postie. (Click for larger image)
It's worth noting that push notifications come only from the alarm sensors, so if you want to know when someone's coming, you either need a sensor that will catch them, or to search for video that has been recorded because of motion detection by the camera. Typically, then, you get a notification from the former and have to search manually for the latter.
There's no doubt the Swann system includes a lot for the money. However, it's approaching things from the traditional CCTV and alarm direction, and it shows – badly – in the ease of use. If you're mostly just turning things on and off with a keyfob, that's fine. But it really could do some software polish.