This article is more than 1 year old
Comparing Avere and Violin – one's overlooked, the other's overcooked
We'll cover Avere more when there's more to cover
Comment Sitting at my desk early today I thought a couple of thoughts: Avere was getting overlooked while Violin Memory is in danger of getting overcooked – one company almost ignored and the other facing intense scrutiny. Why?
Avere's relative invisibility
It's been a glorious spring and summer for storage news and that means that solid storage tech product companies such as Avere get overshadowed.
Avere recently announced that its FXT edge filers could front-end the Google nearline cloud and do for users of that cloud what Avere was already doing for Amazon cloud users: make the remote cloud seem like a fast, local resource with its front-end caching.
But, when that news came out, so did lots of other news and the Avere-Google deal – a capability tweak by Avere – was partly overshadowed by the overall Google Nearline kerfuffle.
Also virtually everybody does hybrid cloud, meaning there's nothing special there.
There's only so much bandwidth at the Reg storage desk and we concentrate on the hot stuff, meaning the nicely glowing and warm news or background stories don't get much of a look-in, unless the ceaseless storage news Niagara abates for a miunute or two.
So why don't we cover Avere more?
Avere just carries on doing what it has been doing. There's a lot of growth there, but no real stand-out events, such as:
Avere isn't filing for an IPO
Avere isn't having senior exec changes
Avere isn't introducing new technology
Avere isn't doing something new with hyperconverged server/storage vendors
Avere isn't doing anything with Cisco
Avere isn't releasing quantitative business growth figures
Avere isn't featuring in Gartner MQs
Avere isn't buying another company or getting taken over
Avere isn't doing anything with 3D NAND or XPoint memory or shingled disks
Avere isn't a storage unicorn with new funding giving it a billion-dollar valuation
Avere isn't visibly taking great chunks out of mainstream storage vendors' business: cue EMC and NetApp, like Nimble, Tegile and Tintri, Nutanix, SimpiVity, Pure, SolidFire and others
Unfortunately, Avere – despite its great make-filers-and-the-cloud-go-faster technology, and impressively steady business progress – doesn't get a lot of airtime.
Forget you have read this and it can carry on ... not getting a lot of air time.
Violin at a tipping point
Looking at Violin Memory's share price history is like seeing the profile of a downhill ski run: dizzying.
After peaking at $7.51 in October 2013, it plunged precipitously, and has been below $3.00 since early June. The trend looks bleak.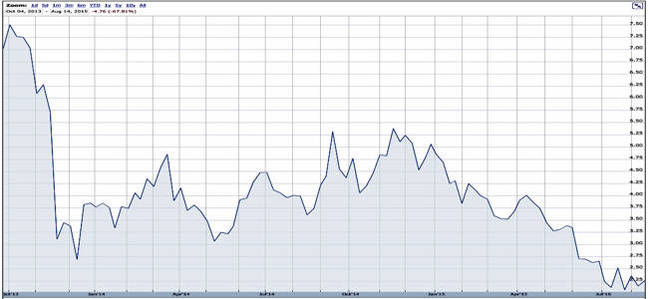 Violin Memory share price history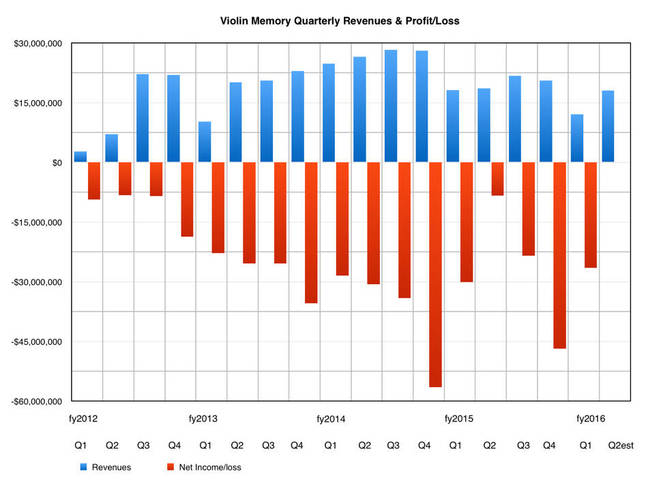 An estimated $18m for Q2 fy2016 revenue has been inserted into the chart.