This article is more than 1 year old
ZTE Nubia Z9 Mini: The able Android smartie the company won't sell you
Chinese mid-ranger offers impressive bang for your buck
Review The Nubia brand is largely unknown in the UK, because ZTE chooses not to flog its so-named wares here in Blighty. Nevertheless, international-spec Nubia Z9s are reasonably easy to acquire and when Chinese wholesaler GearBest offered to lend us one to poke with the El Reg reviewing stick, we thought: why not?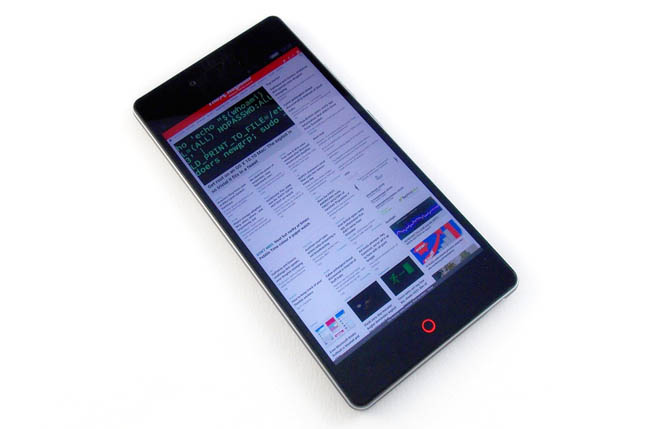 ZTE Nubia Z9 Mini
The Nubia Z9 Mini is the smallest and cheapest member of the Nubia Z9 family, parked below the phablet 5.5-inch Z9 Max (see our hands-on here) and the 5.2-inch Z9, both of which use Qualcomm Snapdragon 810 chipsets. That makes the Z9 mini a bit of a poor relation but the combination of size, price (£180 at the time of writing) and specification may make it the pick of the range for many users.
To start with, for a mid-range device carrying a "mini" tag, this Z9 has a pretty decent core specification. The 5-inch screen boasts a full-HD resolution of 1080 x 1920, the chipset is a modern 64-bit Qualcomm MSM8939 Snapdragon 615 affair which boasts eight cores (four 1.5GHz and four 1.0 GHz Cortex-A53) and it packs 2GB of RAM.
Internal storage is a useful 16GB (which means about 12GB after system requirements), but the microSD card slot will take cards of up to 128GB capacity if that's not sufficient. Of course all that inner goodness wouldn't matter if the Nubia Mini looked or felt cheap, but it really doesn't. It's a well-built device with an alloy frame and polycarbonate back panel, which unclips to reveal a fixed 2,900mAh battery and the microSD card slot.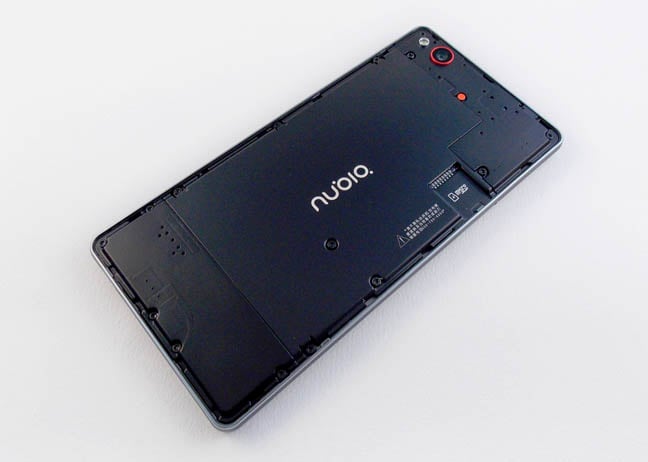 That spells Nubia apparently. The 16MP camera is good, but the battery is fixed
The only branding on the device is Nubia (though oddly it looks more like NUOIO), a plus for anyone who doesn't rate ZTE as a brand to match Apple or Sony. In fact, judging by the lack of any reference to ZTE on the Nubia website, I'd say ZTE is trying to actively establish it as a separate brand. Probably a canny move.
The styling is a bit bland and rather Sony Xperia-like, but there are some nice touches – like the way both the screen and rear panel curve around to meet the metal frame. The volume and power buttons feel more plastic than metal – I'm not entirely sure what they are made of – but have a clean, precise action.
To add some colour to the design, metaphorically and literally, the side capacitive buttons below the screen glow red, while the rear camera lens and Home button each have a painted red surround.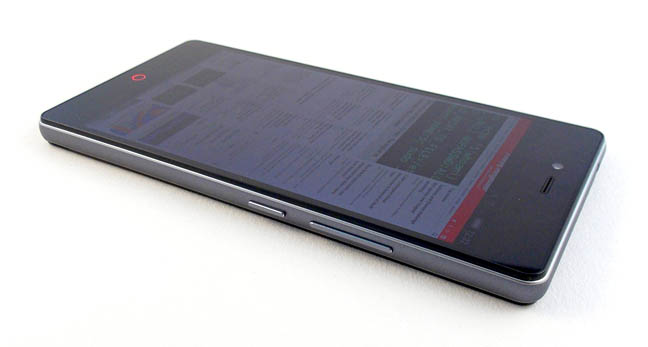 Power and volume buttons feel like plastic, not metal, but function OK
The only design feature I take issue with is making the two side capacitive buttons identical red dots. One also performs a non-standard function. While the right moves you back a step and recent apps are accessed by holding down the circular home button, the left opens a menu. It's been quite a while since Android needed a menu button outside the app.