This article is more than 1 year old
Yellow and blue circles, red arrows added to Gartner's Magic Quadrant
This to there, that to there ... try and keep up
Here's something to delve into; a look at the changes in Gartner's integrated systems Magic Quadrant between 2014 and 2015.
Gartner produced its latest integrated systems magic box of tricks last week and we thought it would be interesting to take the image and plot last year's positions on it, which is exactly what we have done.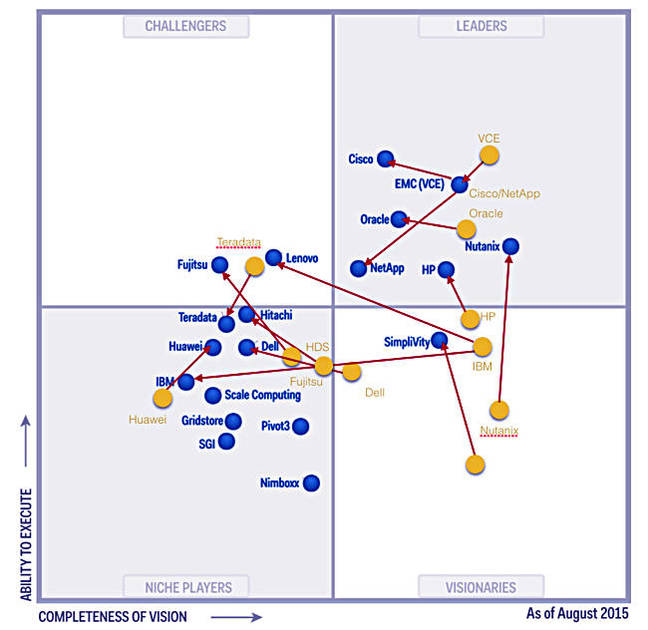 Filled yellow circles are our estimated 2014 position with red arrows showing movement to 2015's position.
What do we see? There's been a lot of movement and five new entries. Two previous entries have disappeared as well; Bull and Unisys.
The newcomers are all in the niche players box; Scale Computing, Picot3, GridStore, SGI and Nimboxx. Their arrival shows a lot of startup energy, and money, is being invested in hyperconverged systems.
The biggest mover is IBM. With the sale of its server business to Lenovo its old entry has been divided into two. Lenovo with its acquired xServer business has found itself in the challenger's box while poor old IBM slips a long way down and sideways to the niche players square, to duke it out with the newcomers.
Nutanix makes a great leap up from visionary to leader while its rival, SimpliVity, also makes a not quite so great leap but is still in the visionaries' square. HP crosses from visionary to leader. The VCE entry gets split between EMC and Cisco following on from Cisco distancing itself from VCE.
Because of Cisco's effective UCS server-based partnering it is still in the leaders' box even though it no longer has a storage product line.
Dell has moved from visionary to niche player. Fujitsu has moved from niche player to challenger; nice work. Teradata has moved from challenger to niche player; not such nice work. HDS was on the edge of the niche player's box and poised to become a visionary. Instead it's gone the other way and is up on the edge of the challengers' box.
NetApp has made a backwards move as it has gone left and down to the lower left-hand corner of the leaders' box. It's 2014 position is occupied by EMC (VCE) in 2015.
That is possibly the worst negative performance in terms of change in the Ability to Execute axis, second only in magnitude to IBM's move leftwards on the Completeness of Vision axis.
Incidentally, Valdis Filks, Gartner's lead on the Magic Quadrant reports, tells us how to position and interpret MQS in Gartner's set of reports about supplier ranking and positioning: "The MQ is focused on the ability of vendors to succeed in a specific market, rather than about products. There is lots in it about understanding customer needs, direction, service, marketing, support, innovation and many other criteria."
"Critical Capabilities is an analysis intended to help users choose the right products for their needs," he adds, "and is what most discuss on this forum while referring to the MQ. The ratings are not the same in the CC and MQ as we analyse different things, generally with more techie stuff in the CC."
"The Market Share report is [our] analysis of the vendors' sales (this is not the MQ or the CC) [and] the MQ does not rate vendors on market share, this is a very common and erroneous assumption. Market Share Report is what you need for rating vendors on market share."
To find out which integrated systems vendors have advanced their ability to succeed tune in here in 12 months' time. ®