Wikiland turns to Shapps and says 'those emails you wanted, we deleted them, sorry'
Try looking in the backup, maybe
---
Wikimedia UK, the national charity supporting Wikipedia and its sister projects, has told the MP and former Conservative Party chairman Grant Shapps he can't see internal emails he has requested under the Data Protection Act ... because it has deleted them.
One of the charity's own staff was censured after being involved in damaging allegation about Shapps during the recent General Election campaign.
During the campaign, LibDem activist Richard Symonds unilaterally suspended a Wikipedia user account that was reportedly responsible for derogatory Wikipedia edits against Shapps's colleagues, insinuating that it had been used by Shapps himself.
Shapps strongly denied the damaging allegations.
The Guardian newspaper managed to find out about the account suspension before it had actually happened (a remarkable piece of journalistic clairvoyance).
Symonds was later censured but continues to be employed by the charity, Wikimedia UK, which dispenses some of the fortune Wikipedia raises from fundraising.
How so, particularly when political campaigning is a no-no for a charity? Symonds says he did the work at lunchtimes, and on his days off, and that's the version WMUK is standing by.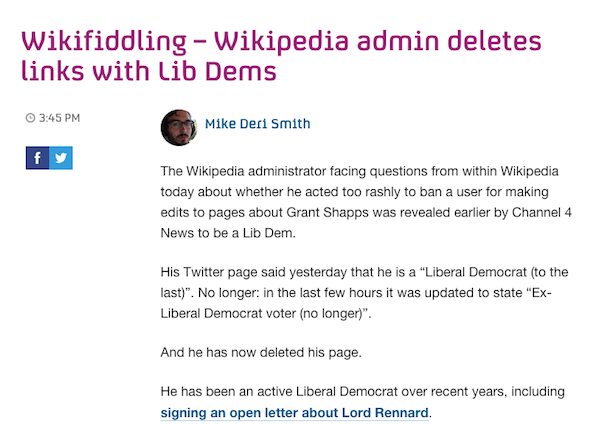 After the story broke, Symonds deleted evidence that he was a LibDem activist
Last month, Shapps requested to see personal data retained by WMUK. But the 80-odd pages returned to him have more than a few gaps. Most are pages from the Meltwater clippings agency, while a few internal discussions heavily redacted. Completely missing are any discussions by or about Symonds and Shapps.
The law firm engaged by the charity, Stone King, told Shapps that "the email had been deleted in the normal course of business, before the date of your Subject Access Request, and is therefore no longer held by the charity".
However, this might not be the end of the story. In 2012, the Information Commissioner confirmed (pdf) that emails retained on a backup server are still "held" by the data processor, so are still the subject of Freedom of Information requests.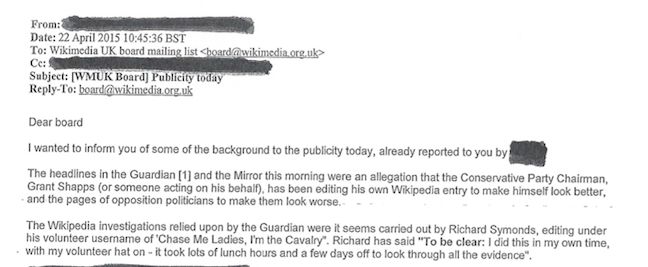 Symonds employer says it isn't responsible for what he does at lunchtimes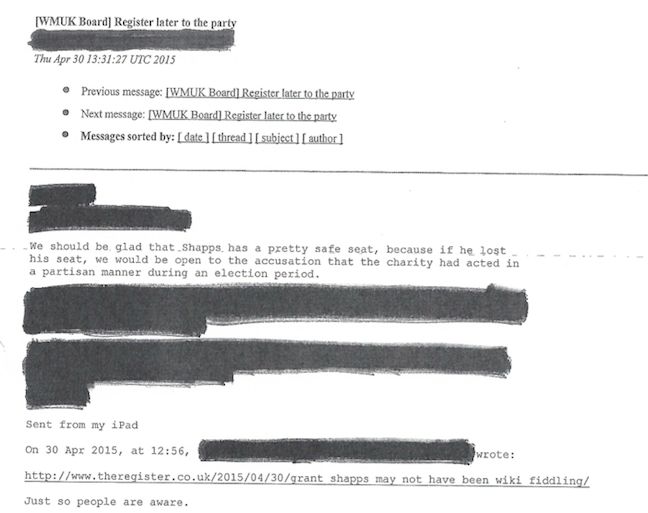 Wikimedia UK staff express relief that Shapps had a safe seat and had survived the election
Interestingly, charity staff can be found discussing our story of 30 April, and expressing relief that Shapps had a safe seat. The reputational damage caused by its staffer would have been even worse had he lost his seat.
As it is, Shapps lost the Conservative Party chairmanship. He is now a minister at the Department for International Development.
We've asked WMUK whether it has an email retention policy, and if so what it might be. Perhaps it's a policy "anyone can edit"? We'll let you know when we have a reply. ®