Kaminario gets triple vision with 3D 3-layer flash
Next-generation AFA goes for uber cheap cost/GB
---
Kaminario is joining Dell in the all-flash array (AFA) war with a capacity-rising and price-dropping K2 array using the same Samsung 3D TLC flash drives.
The new, sixth generation – as we see it – K2, actually v5.5, offers an average price of under $1/GB usable, half that of the gen-5 product introduced in May 2014.
Dell's SC Series arrays, using the same Samsung PM1633 flash drives, hit a $1.66/GB (raw flash) street price. Any data reduction would provide an even lower usable capacity price. For example, a 5:1 data reduction ratio would deliver a $0.332/GB price.
K2 arrays are built from dual-controller K-blocks which can scale up and also scale out to a general maximum of four K-blocks, although 8 K-block configurations are possible. A table provides a quick gen-5 and gen-6 K-block comparison: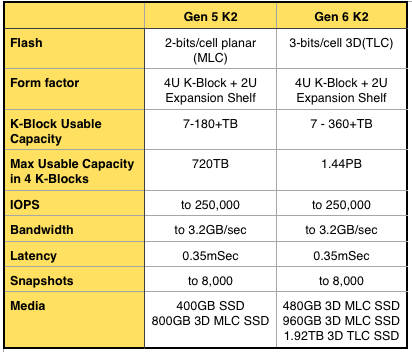 Gen 5 and 6 (v5.5) K-block comparison
The maximum usable capacity, assuming a standard dedupe/compression data reduction factor, goes up 3.6x, from 99TB to 360TB. Kaminario doesn't release its raw flash capacities. So a 4 x K-block config goes up from a maximum usable capacity of 720TB to 1.44PB. With 8 K-blocks, that means 2.88TB.
The density is 60TB/U. The performance numbers haven't changed from gen 5 to gen 6 (v5.5).
Kaminario says customers will continue to be guaranteed effective capacity: if a customer is unable to store the capacity that is guaranteed, they will get no-cost additional hardware to expand their system and fulfil that guarantee. It says it's the only flash array supplier offering this promise.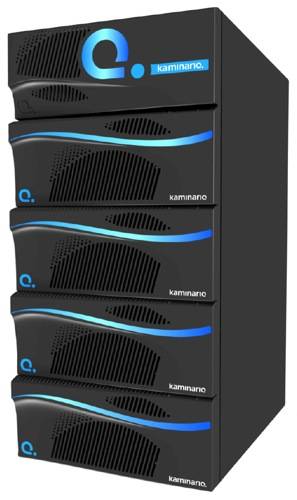 K2 K-block stack
There is native, snapshot-based, asynchronous replication, so a K2 array can replicate to a local or remote K2 to provide disaster recovery.
There is also a Perpetual Array program, under which customers can mix and match different-generation K-blocks within a K2 array – meaning no fork-lift upgrades – and enjoy non-disruptive upgrades.
Kaminario enjoyed quadrupled bookings over the past year and we have learnt that SanDisk is a customer. It is majoring on three pillars, as it describes them: scale (up and out), cost-efficiency and ease of use. It is focused on winning general-purpose enterprise storage deals, saying its flash storage is now so cost-efficient that you no longer need disk.
There is a 7-year warranty, Kaminario saying the way it handles flash means there are no concerns over 3D TLC flash endurance – it can do 5 to 10 drive writes/day. As most customers do less than 1 drive write per day, the drives will theoretically last for a long time.
With pricing of less than $1/usable GB, a 360TB usable K-block will cost about $360,000. V5.5 K-blocks will be available in the third quarter of the year. ®