This article is more than 1 year old
Watch out Sonos! Here's the second coming of Yamaha MusicCast
All singing, all dancing audio system ticking all the right boxes
Pics Ever had a great idea but not everyone seemed to think so? That was pretty much what happened to Yamaha when it first launched MusicCast back in 2003. A CD-ripping music server with wireless client speakers and Ethernet too, if needed. What a great idea.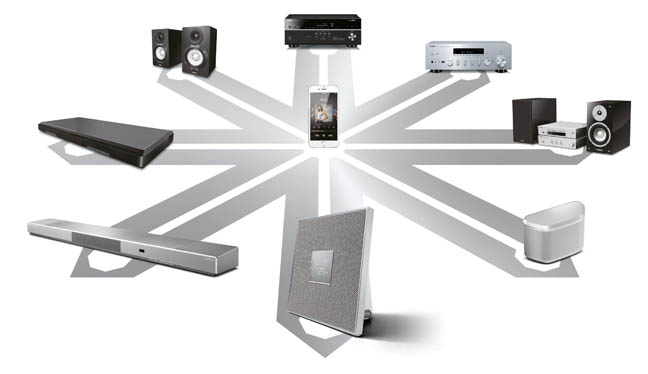 A cast of thousands... not quite but Yamaha's MusicCast is available on a broad range of audio products
What wasn't so great was that you couldn't load up the 80GB HDD with your pre-ripped MP3s from a PC, and it didn't stream net music services either. A high price and not enough boxes ticked kept the MusicCast MCX-1000 and its audio satellites from gaining mainstream appeal.
So, back to the drawing board and some 12 years later, Yamaha unveiled an entirely new MusicCast system in secret to the press in Hamburg recently, that it claims ticks more boxes than any other competing audio streaming kit on the market.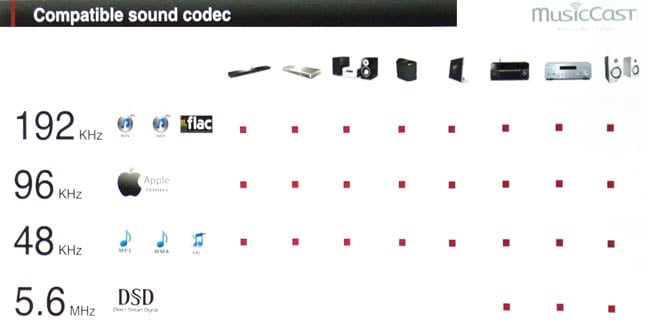 Yamaha MusicCast codec support
One thing is for sure, Yamaha has stacked up an impressive range of MusicCast devices – 23 at the last count – all featuring Wi-Fi 802.11b/g/n, Ethernet and Bluetooth connectivity, plus Apple AirPlay support.
At the event, Thorsten Eckartz, AV division director for Yamaha Europe explained that besides joining up to an existing network, each MusicCast product could function as an access point. The thinking here is that you don't need to hook up to an existing Wi-Fi network to stream hi-res audio to a MusicCast device, as each supports Wireless-Direct streaming technology.
Users with MP3, WMA and AAC audio files up to 48kHz, Apple Lossless at 96kHz, WAV, AIFF, or FLAC files at 192kHz can stream to any device. If you want to go a step higher to stream 5.6MHz DSD audio, then the supported kit falls into three categories: Hi-Fi active speakers, Hi-Fi receivers and AV receivers.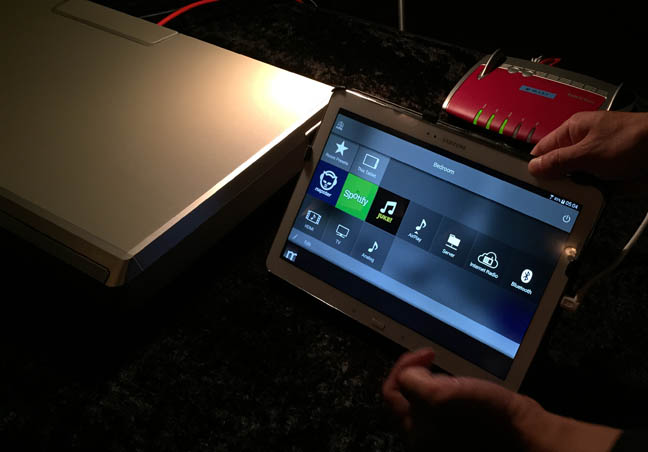 Alongside the SRT-1500 sound deck the app shows the audio selection menu of streaming service, AirPlay, server, internet radio, Bluetooth, HDMI, TV and analogue sources. Click for a larger image
Talking of support, controlling all of this is the MusicCast app for Android and iOS and Yamaha was keen to show it all in action on its new kit – many on show were still prototypes – and regardless of mobile platform, it didn't miss a beat. So, no red faces there ... but the MusicCast presentation intro was another matter.
I sat through it so you didn't have to. Cheesy slides appeared with a voiceover – sounding a bit like he should be announcing where the nearest curry house was from your local cinema – that made great claims for the life-enhancing qualities of MusicCast. Eternity was mentioned frequently, and you can't get more life-enhancing than that, surely.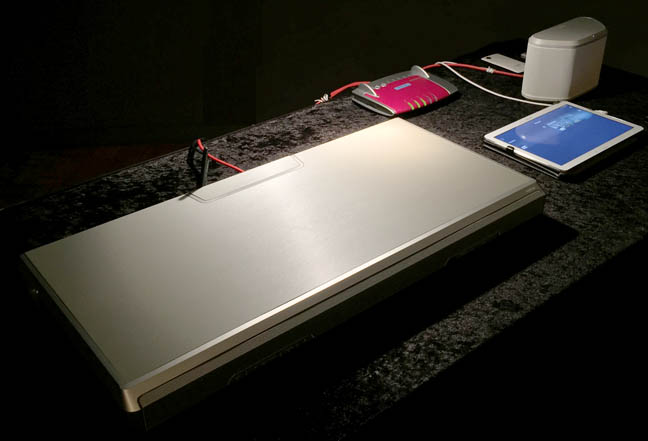 SRT-1500 sound deck and WX-030 network speaker
"A single flower and mellow music pull the two of us together in a special space. My wife softly spoke, gazing at a pinpoint of light reflected in the glass. I feel I caught a glimpse of eternity there." So the medication's working then..? There was more, but I'll spare you. To be charitable, it was perhaps a case of lost in translation.