This article is more than 1 year old
Watch out Sonos! Here's the second coming of Yamaha MusicCast
All singing, all dancing audio system ticking all the right boxes
Sonic booms
New for extreme audiophiles is the flagship: Aventage CX-5100 an 11.2-channel AV receiver which relies on the existing MX-A5000 power amp.
If you don't fancy a sprawl of speakers then the new YSP-5600SW sound projector is the first Dolby Atmos soundbar and features an array of 44 speakers including 10 dedicated to Dolby Atmos ceiling speaker duties plus two built-in subwoofers and a wireless subwoofer.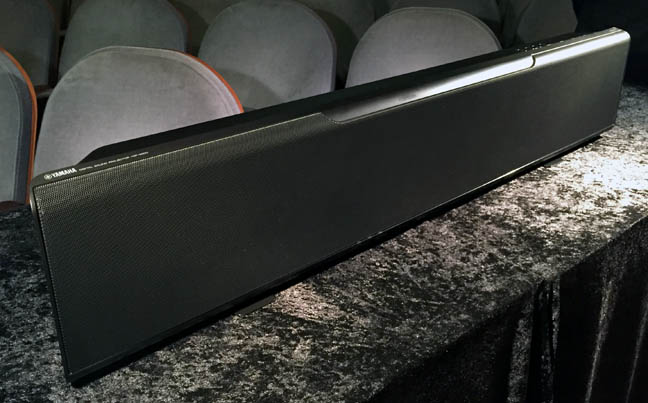 Dolby Atmos sound bar anyone? Yamaha's first of a kind, the YSP-5600SW
For those whose pockets aren't so deep, Yamaha also offers the YSP-1600 soundbar and SRT-1500 sound deck with MusicCast. Still, Yamaha doesn't expect every bedroom or kitchen to be kitted out with heavyweight receivers, so there's the NX-N500 Hi-Fi Active speakers for minimalist audiophiles and musos, the Restio Mini ISX-80 for minimalist home bodies, and the WX-030 network speaker for the rest of us.
Interestingly, the soundbars and high-end gear can also connect to third-party Bluetooth speakers. Considering that to stream reliably Bluetooth isn't likely to function too well through walls, it remains to be seen how useful that will be when you could simply end up with the AV kit blaring away at one end of the room and the Bluetooth speaker at the other.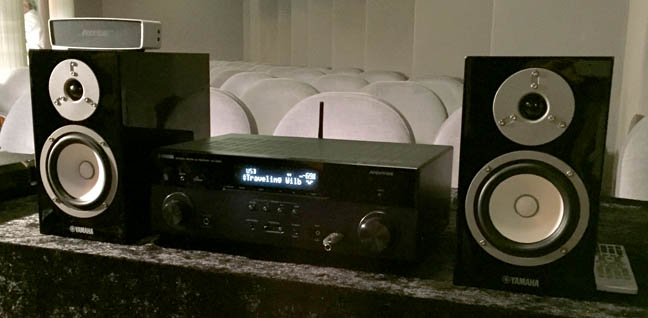 Aventage RX-A50 series receiver demo'd simultaneously playing to a Bose portable Bluetooth speaker
As an ecosystem, Yamaha's MusicCast offers a broad product base that's certainly going to find appeal as a one-stop-shop, although all that effort could easily go to waste if the portable models are deemed too costly.
Yamaha and its dealers will find out soon enough if its £200 SRP for the WX-030 speaker is acceptable as an entry-level price point.
The YSP-1600 (£500) and SRT-1500 (£600) sound bars will be available this month along with the NX-N500 Hi-Fi active speakers (£600). The WX-030 (£200), Restio Mini ISX-80 (£400) portable speakers, YSP-5600SW Dolby Atmos sound bar (£1900 with sub, £1600 without) and CX-A5100 11.2-channel pre-amp (£2500) are out in September, with the R-N602 Hi-Fi Network receiver (£450) and MCR-N870/N670 (£1000/£700) micro component systems due in October 2015.
Three Slimline AV receivers, the RX-S601 (£560), RX-S601D £600 and RX-AS710D Aventage (£900) are also due later in the year.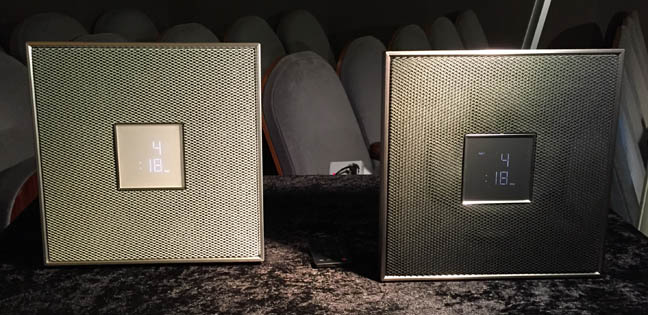 Well-heeled lifestyle listening: the Restio Mini ISX-80 portable speakers are £400 apiece
The MusicCast range will be on show at IFA techfest in Berlin in September, so you can find out for yourself if the price is right. ®