It's been barely 48 hours since the Ashley Madison database of millions of fling-seekers was leaked online, and already the lawsuits are flying.
Canadian legal eagles* working at Charney Lawyers and fellow practice Sutts, Strosberg LLP will sue fellow Canuck company Ashley Madison over the security and privacy breach. For the moment it's a Canadian-only affair, but that may change, Ted Charney told The Register.
"This could be opened up outside of Canada," he explained. "So far we've had about 50 Canadian citizens contact us about the Ashley Madison hacking since the data went online, but only one of them is willing to publicly come forward and start the lawsuit."
That man is Eliot Shore, a disabled widower living in Ottawa. He signed up to the website after his wife of 30 years died of cancer, but didn't stay on it for very long and claims never to have met anyone from the site – which, considering the high sex imbalance of users (women made up 14 per cent of accounts), isn't too surprising.
Shore is suing because his personal information has been splashed across the internet for anyone to see. Under Canadian law there is a right to sue if your privacy is infringed, and the lawyers are looking for CDN$760m (US$580m) to make up for his embarrassment.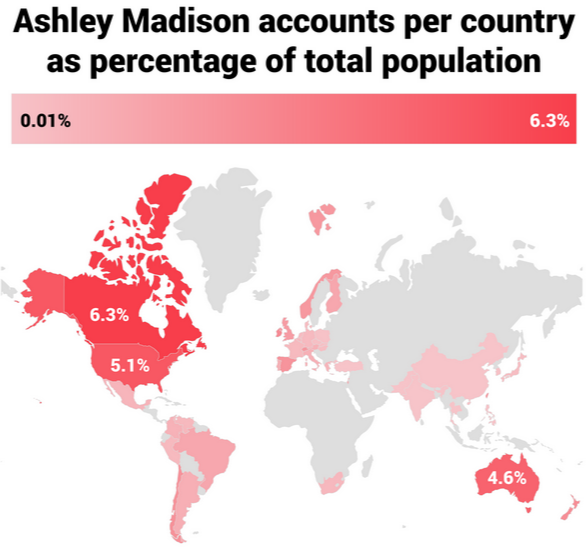 Source: Jishai Evers / Dadaviz
The law firms are actively looking for other participants and, in Charney Lawyers's notice about the case, tells those considering it that the legal battle can be added anonymously and "your information will be held in strict confidence." Odd, that's what Ashley Madison used to say, too.
The lawyers stressed on their website:
We are looking for representatives from every Canadian province to act as plaintiffs in the lawsuit. If you take on this role, we will seek an Order from the Court allowing you to remain anonymous to the public. If this Order is granted, your name would appear on the record as John Doe or Jane Doe. If this Order is not granted, you may abandon the action while staying anonymous to the public.
Nevertheless, this looks to be the first in a very long line of legal cases. While Canada had the highest percentage of users of the website per population, the biz also had a lot of American users – and they don't call the US the land of the lawsuit for nothing.
The first heads in the US have already started to roll as a result of the privacy breach. It was revealed this week that reality TV star and former executive director of the anti-abortion and pro-marriage group Family Research Council Josh Duggar had two accounts on Ashley Madison. On Thursday, he admitted that he had cheated on his wife. (In May, he resigned his post at the council after admitting abusing members of his family.)
"I have been the biggest hypocrite ever. While espousing faith and family values, I have been unfaithful to my wife," he said in a statement this week.
"The last few years, while publicly stating I was fighting against immorality in our country I was hiding my own personal failures. As I am learning the hard way, we have the freedom to choose our actions, but we do not get to choose our consequences. I deeply regret all the hurt I have caused so many by being such a bad example."
The director of the Republican Party in Louisiana, Jason Doré, has also been found in Ashley Madison's member records. He told the Times-Picayune newspaper that he had spent $175.98 on the site from 2013 onwards for research purposes in legal cases. ®
* Canada's national bird is the common loon, so shouldn't that be legal loo- eh, never mind.