Rock reboot and the Welsh windy wonder: Centre for Alternative Technology
Biomass and the pit
Moving away
An organisation that's greened its power supply and checked its cloud suppliers can then look at its hardware, although Tyler says it is rarely worth replacing kit from an environmental point of view until it has reached the end of its life.
It is often hard to get environmental data out of IT hardware firms, he adds – if they publish it, they are probably quite good anyway. Saving energy can make a big contribution too, and to that end the centre is developing open source energy management software.
Whether visiting as a tourist or for a course, there's a choice when leaving: between exiting through Britain's Greenest Shop – selling a range of ethically and environmentally sound products – and walking down the steep slope to the car park, or another trip on the cliff railway.
You can also power up with a stop at CAT's vegetarian café – refreshments are sourced locally, or are organic and fair trade with full meals, salads, home-made cakes plus organic liquid intake.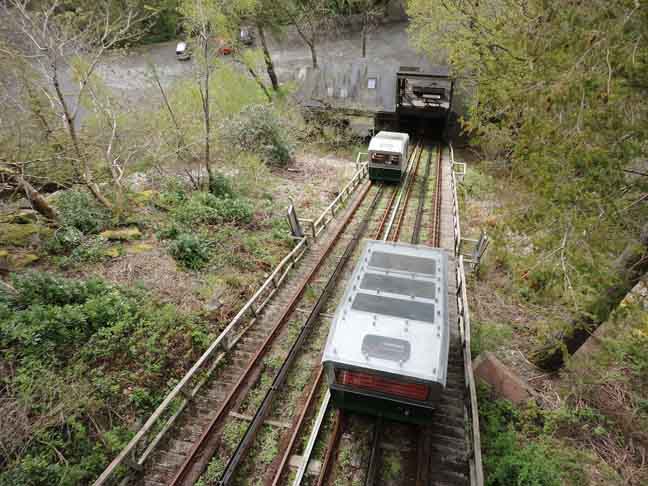 A water-powered funicular takes a load of your dogs
Inspired by the centre's messages on saving energy, I took the railway again on my way out.
Outside the centre there are plenty of other things to do nearby (particularly if you have, er, a car to get to them). The nearby town of Machynlleth features handsome architecture, lots of cafés and the Museum of Modern Art Wales.
It's also a good place to stay and eat, with excellent dinners at the Wynnstay Hotel. Should you choose to linger locally, the area boasts an impressive number of holiday cottages and places to stay – a section of CAT's website helps you book.
A few miles north is the Corris craft centre, featuring studios, Welsh food and drink and King Arthur's Labyrinth, an underground boat trip featuring Arthurian legends. It's also 20 miles to the lively seaside resort and university town of Aberystwyth, and the spectacular Snowdonia National Park lies to the immediate west and north of the centre.
There's something to interest all ages at CAT although it's probably not the place for those who see wind turbines as blots on the landscape rather than a great way to leverage Britain's status as Europe's windiest nation. The centre is focused on practical engineering-led solutions, and it is convinced that the future of energy is renewable – that's why it was set up. Wind, as we know, plays a big part of that message for many.
But for those interested in how Britain can keep its lights and servers on in an environmentally sustainable fashion, the CAT has lots of interesting things to say – and appropriately, does so in a rather lovely environment. ®
GPS
52.6228, -3.8425
Postcode
SY20 9AZ
Getting there
Car: the centre is on the A487 three miles north of Machynlleth, and is well-signed but allow allowing plenty of extra time. If you have a plug-in electric car, CAT offers a free recharging. Public transport: Train to Machynlleth from Birmingham every two hours, then three miles via foot, bike, cab or Lloyds Coaches - hourly bus that stops outside the centre. More information here.
Entry
Open daily from 10am to 5pm, last admission one hour before closing. Adults: £8.50, £7.50 for concessions including the over-60s and £4 for children. Tickets booked online cost 10 per cent less. There are no charges for local residents, children under three years and members.
Other resources
Centre for Alternative Technology