This article is more than 1 year old
Seventh bigshot flings self out of EMC Federation window
Distinct lack of gruntlement ahead of VMworld as execs fight over parachutes
Enough already, the EMC/VMware exec exodus is getting too long: VMware CTO Ben Fathi has just quit, and that makes seven.
The day after VMware's chief mouthpiece Chuck Hollis announced he was going to be the social media oracle at Oracle, VMware's chief techy follows him out of the door - but not to Oracle. His destination is unknown.
Fathi joined VMware in February 2012 after three years at Cisco and eleven years at Microsoft before that.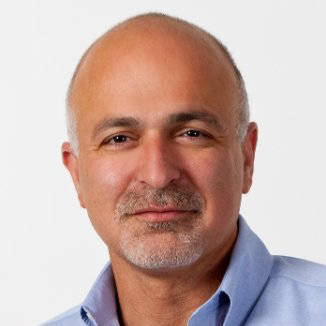 Ex-VMware CTO Ben Fathi
The timing, like that of Hollis', is unfortunate, with VMware's VMworld global techfest hitting San Francisco's Moscone Centre next week. With the EMC Federation's future currently the subject of deep, activist-investor-encouraged thought and VMware mooted as a potential buyer of EMC - or selling itself to EMC, or, indeed, EMC merging with HP - exec departures like this can indicate that the outbound insiders don't like the look of what's coming down the pike.
no matter how you slice it, VMware top dog Pat Gelsinger has lost two execs in two days, a week before the most important event in VMware's marketing year. That can't look good.
It's unsettling, and investors don't like being unsettled. To add to their unsettlement we hear two execs have left VCE, EMC's now in-house converged systems business unit. D J Long was an EMC senior director for business development and technology alliances at VCE. He's moved to Intel to become its senior director for global security innovation alliances.
Mark Thurmond is now Qlik's EVP for w-w sales, resigning from being SVP for global sales at VCE.
His Qlik announcement said:
"Qlik provides the essential visual analytics piece that makes data – big or small – a competitive advantage for customers of any size, in any industry or geography. It was an easy decision to join a company with such an impactful value proposition that fits such an important market need."
Easy decision hey? Bet that throwaway remark pleased VCE COO Tim Page and EMC CEO David Goulden.
So Gelsinger loses two execs and Goulden loses two as well, but that's not all. Recently EMC Chief strategy guy Jonathan Martin went to Pure Storage and Syncplicity boss Jeetu Patel went to Box to become its chief strategy officer.
Let's not forget that Paul Maritz has stepped back from being the CEO at Pivotal.
So that's seven EMC Federation execs going in about a month. The unsettlement index is rising. ®