This article is more than 1 year old
Scality funding approaches escape velocity
Object storage startup readying itself for a prospective IPO in 2017
Object storage startup Scality has picked up $45m in D-round funding and is heading for a 2017 IPO.
This takes total funding to $80m and here is the funding sequence: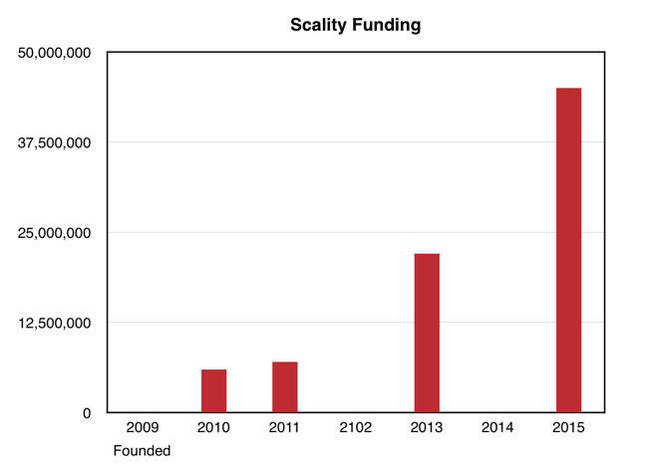 Scality funding rounds
It's a nice, steady and also modest sequence of rounds, by today's unicorn standards. This latest round includes new entrant and strategic partner BroadBand Tower, all existing investors, led by Menlo Ventures, and, in a nice touch, 65 per cent of the Scality staff.
The cash will be used to grow the North America sales force, continue international expansion and support its resellers.
BroadBand Tower is a Japan-based data centre operator offering cloud and co-location services. Obviously it will help Scality exapand its Japanse business.
Scality was founded in 2009 by Serge Dugas, Giorgio Regni, Jerome Lecat, Bradley King and Daniel Binsfeld. Lecat is the CEO.
Close rival Cleversafe was started up in 2004 and has received between $100.4m and $151.6m in funding – different sources, such as Crunchbase, come up with differing amounts. It picked up $55m in August 2013.
Scality's $45m comes soon after the announcenent of a reselling deal with Dell.
We're told that Scality has increased its revenue by 400 per cent since the previous $22m round in July 2013. Headcount has gone up from 42 to 160, and a reselling deal with HP was signed in October last year. It opened an office in Singapore in January this year and has set up a Scality KK subsidiary in Japan.
That clearly relates to the Broadband Tower investment and partnership. Scality says it will "build a Japanese support desk and QA team to provide substantial support as well as build a structured entity with sales, system engineering and marketing departments". This obviously relates to Scality KK.
Ashish Nadkarni, research director at IDC. contributed a prepped quote to the announcement: "Object-based storage [is] a market that represents $21.6bn in 2015, and is growing 21.5 per cent annually."
Scality is now marketing its RING product as software-defined storage, getting away from the object storage idea. Hiroshi Fujiwara, chairman and grand Sakura fromage (president and CEO) of BroadBand Tower, had a ready-prepped quote: "Like server virtualisation and clustered NAS before it, software-based storage is a relatively new concept in Japan, and we wanted to be the first to bring it to the Japanese enterprise market. We believe that software-based storage is the future, and many Japanese companies across all vertical industries will benefit from it."
Lecat had his prepared quote too: "Over the course of the last year-and-a-half, we've seen an unprecedented amount of funding given to software storage startups. At the same time, we've seen the traditional storage vendors lose market share, change leadership (think NetApp) and shift their business model to mimic the software-defined strategy. This latest funding round comes at a time when Scality and the software-defined storage industry are poised to attract billions of dollars from customers that are rethinking their storage strategies."
And if Scality gets a good share of those billions then, as night follows day, we will surely see Scality escaping the force of funding gravity and reaching escape velocity to go into orbit as a self-sustaining business.
Lecat said: "This new capital investment will allow us to massively boost our go-to-market, attract strategic new hires, continue to expand globally, and be primed for a successful IPO by 2017." Or, whisper the thought, an acqui ... ahem ... sition. ®