This article is more than 1 year old
Shingled drives get SpectraLogic archive down to 9 cents/GB
Slow and steady rise of disk archiving
Spectra Verde DPE is a Shingled Magnetic Recording (SMR)-based NAS disk platform for high-density bulk storage at costs as low as 9 cents/GB raw.
Shingled drives have sets of overlapping write tracks with side-by-side narrower read tracks to increase density. The downside is that a whole set of write tracks have to be rewritten if data changes anywhere in the set, thus slowing down data rewrites considerably. This makes the drives best suited for online disk archives with a write-once/read-many access profile.
The Verde DPE – DPE standing for Digital Preservation Enterprise – scales up to 7.4PB of raw capacity in a rack, with ten Verde DPE enclosures. A Verde DPE system starts with a 4U master node offering 200TB of capacity. Expansion nodes, also 4U, hold 800TB. The system uses 8TB SMR drives, with 96 of them in an expansion tray: there are global spare drives. Spectra said the density is up to 180TB/U.
CIFS and NFS interfaces are included and an NFS acceleration kit is optionally available. The array performance is up to 1GB/sec and asynchronous replication is also included.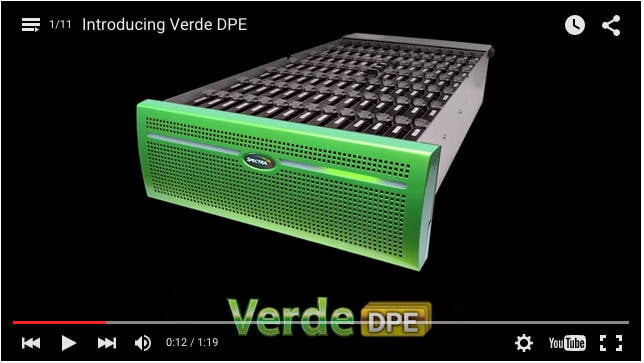 Verde DPE video. Click the image to roll the vid
Verde uses ZFS software RAID, with its Z3 triple parity, for data protection. Spectra said: "Triple-parity RAID Z3 with continuous data checksum, [pushes the] probability of data loss to 1 in over 2 million years when properly monitored and maintained."
There is a built-in NFI portal providing an S3 link to Spectra tape libraries through the BlackPearl Deep Storage Gateway. BlackPearl stores files as objects on LTFS-accessed tape, with a BlackPearl caching product front end.
What we are seeing here is another notch in the belt of faster-access archives using disks instead of tape. SMR disk drives, with their higher capacity compared to non-shingled drives, lower the cost to make such archives more affordable.
International pricing for full expansion nodes (800TB) is as follows: EU €.10/GB, UK ₤.07/GB, AUS $.15.GB, CAN $.24/GB, Rest of World in USD $.11/GB. Pricing based on current exchange rates as of 8/17/2015 and valid for 60 days thereafter. There is a DPE pricing calculator on Spectra's website. ®