The much-hacked and hated sexual sin-bin Ashley Madison is offering $500,000 Canadian Dollars (US$377,000) to anyone who can provide information leading to the arrest of the those behind its hacking.
Records on some 30 million members of the online hoping-for-adultery site were leaked in the hack, along with internal emails indicating the company had probed and discovered critical data-destructive vulnerabilities in competitor systems. There is no confirmation of foul play.
Avid Life Media says the hack investigation is progressing and requires outside help.
"… the investigation is progressing in a positive direction, but more help is needed from the outside," a spokesman says.
"In the very best interest of our customers, who have been affected by this malicious act, we are firmly committed to fully assisting these law enforcement and investigative authorities, without reserve."
Ashley-Madison owners Avid Life Media will pay snitches who help bring in those behind what Canuck cops call "one of the largest" breaches in the world.
Impact Team hackers claim to have broken into the flirt factory years ago stealing data up to 12 July when hacked internal Ashley Madison computers were splashed with a poster warning them of the act, and in borrowing from the Stuxnet trick book, were made to blare ACDC's Thunderstruck.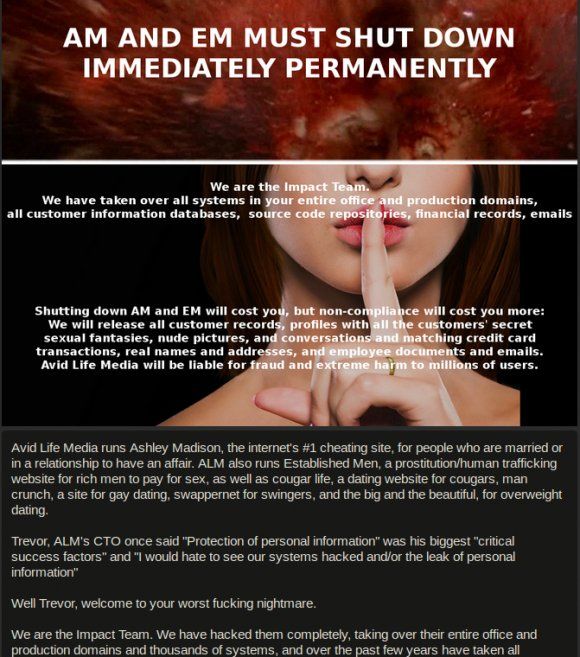 Impact Team's poster
The hack has been linked to the twin suicides of two in Canadian Ashley Madison users whose data was exposed.
Hacker hunters wanting to help or seeking the reward can send direct messages via Twitter to a dedicated Toronto police account (@amcasetps). ®
Similar topics