This article is more than 1 year old
Microsoft issues first SharePoint 2016 preview
Cloud. Hybrid. Compliance. Collaboration. Search. Any device. Touch. HTML5. BINGO!
Microsoft has released the first preview of SharePoint Server 2016 and outlined a buzzword-list of new features.
Microsoft says its made "deep investment in HTML5" to give you "capabilities that enable device-specific targeting of content. This helps ensure that users have access to the information they need, regardless of the screen they choose to access it on." And your users get a consistent experience whatever device they choose to wield, including on touch-enabled devices.
A new "cloud hybrid search" will permit users wielding "SharePoint Server 2013 and Office 365 to retrieve unified search results through a combined search index in Office 365."
The index for that search resides in Office 365, one of many features billed as letting you take advantage of hybrid cloud. The idea is that your on-premises SharePoint can pop the index, or other data, into Microsoft's cloud so you get the on-prem performance you want without having to bulk out yours servers. But of course you do get into PAYG territory with the cloud.
Sysadmins may also be made to smile by what Microsoft pledges are "improved provisioning capabilities" than mean "Tasks that may have taken hours to complete in the past have become simple and efficient processes that allow IT to focus less on day-to-day management and more on innovation."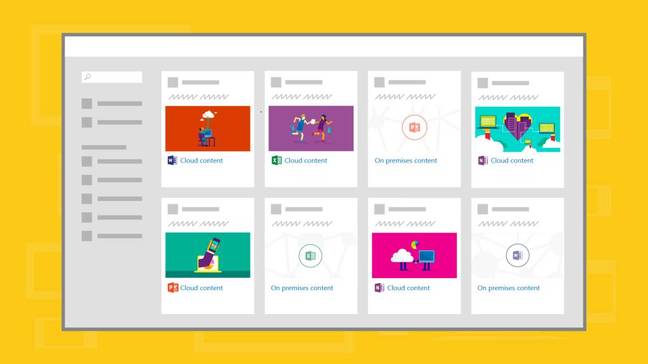 There's a new UI element called the "App Launcher" that adds short cuts to your apps and content to the SharePoint client's top navigation bar.
We could go on but you get the drift: Microsoft's telling us this is the shiny, new, cloud-age SharePoint and you should get ready to buy and install it ASAP after tinkering with the preview, available here. You'll need Windows Server 2008 R2 Standard or Windows Server 2012 R2 to give it a try, plus tolerance for a 2.8GB download.
Microsoft's offering the usual "use this in production and there's no amount of lawyers that can save you" warnings, adding that you can't upgrade from the preview to the final version when it emerges, if schedules hold, some time deep into 2016. ®